Scandals, Iraq War, Torture, Rape and Abuse
From Bwtm
(Difference between revisions)
---
Current revision
Iraq War, Torture, Rape and Abuse
ethics of troops in Iraq
Confessions from U.S. Soldiers in Iraq on the Brutal Treatment of Civilians
http://www.alternet.org/waroniraq/56761/
Military report shows ethics of troops in Iraq
Expert says findings reflect stress of war
May 03, 2007 Only 40 percent of Marines would report a member of their unit for killing or wounding an innocent civilian, according to the military's first report on the ethics of U.S. troops in Iraq. One-third of the Marines surveyed would turn in someone for stealing, and 30 percent would report a unit member for unnecessarily destroying property.
Combat veterans said the ethics report accurately portrays troop behavior in Iraq, where some service members said unit loyalty can overpower the obligation to report wrongdoing.
The figures for the Army were roughly 15 percent higher in those three categories, but even those were described by the report's authors as in clear need of improvement.
"People are going to be surprised and disturbed by this, and then they are going to understand that this is war," said John Pike, director of the military think tank GlobalSecurity.org.
The San Diego Union-Tribune obtained a copy of the 30-page report from an anonymous source and asked Pike to comment on it. The Pentagon had not authorized the release of the document, which was prepared by the Army's Mental Health Advisory Team and sent to the commandant of the Marine Corps on April 18. The military is using the report to prioritize training and other needs.
"Troops are sent to fight for their country, but when they get to the battlefield, they are fighting for their buddies," Pike said. "I suspect that combat in Iraq is more stressful than is understood. This list of behaviors shows classic symptoms of combat stress."
The report indeed showed that longer deployments and multiple tours of duty were increasing troops' rates of marital and mental-health problems, including post traumatic stress disorder. An even bigger factor was each service member's exposure to combat: More fighting typically led to a greater likelihood of mental difficulties.
Strong leadership by enlisted officers, such as sergeants and staff sergeants, greatly reduced a unit's psychological strain – and vice versa, the report's authors concluded. They recommended more aggressive and consistent training in ethics and leadership skills for these officers, as well as chaplains and mental-health professionals working in war zones.
The document was based on focus groups and surveys of 1,320 soldiers and 447 Marines from August to October. The service members' responses were kept anonymous because the interviewers wanted to get the most honest answers possible.
Combat veterans said the report accurately portrays troop behavior in Iraq, which they depicted as a frustrating and soul-sapping place where the enemy seems to lurk everywhere.
"When you deal with a loss in a unit, you have to fight the anger and feeling of inhumanity you feel toward the people," said Patrick Alvarez of Chula Vista, a staff sergeant in the California National Guard. His unit lost a soldier during a convoy attack about three years ago in Baghdad.
"When something like that happens, you start to lose the desire to do what is right," said Alvarez, who received the Bronze Star for valor. "I know of it first-hand. I was looking at 10-year-olds and under the right circumstances, I would have wasted those kids in a heartbeat."
California National Guard Staff Sgt. Patrick Alvarez of Chula Vista, who was awarded the Bronze Star for valor, says strong military leadership will help keep troops in line while reducing stress levels.
Then he added: "An innocent civilian? I don't think I ever met one over there."
Some military personnel said a unit's sense of loyalty and camaraderie can overpower the obligation to report wrongdoing, especially when its members have banded together to survive in combat.
"You are protecting their lives and they are protecting your life," said Rey Uy, a retired Marine staff sergeant who lives in Chula Vista.
Urban combat can cause intense frustration, he said.
"You don't know who your enemy is. You don't know if it is the 10-year-old with the cell phone or the old man sitting on the corner watching you," said Uy, who served with the 3rd Battalion, 11th Marine Regiment, 1st Marine Division at Camp Pendleton. "You can't find them, yet every day you have a Humvee blown up and people hurt or killed. And then back at base camp you are getting rocketed and mortared."
The more brutal the war and the longer that troops are exposed to it, the more difficult it is for them to follow the military's rules of engagement, said Jean Bethke Elshtain, a professor of social and political ethics at the University of Chicago.
But not all service branches react the same way to combat stress, said Kateri Carmola, who teaches political science and war ethics at Middlebury College in Vermont.
"You don't know who your enemy is. You don't know if it is the 10-year-old with the cell phone or the old man sitting on the corner watching you," said Rey Uy, a retired Marine staff sergeant.
The Army has emphasized battlefield ethics training since the Vietnam War, she said, while the Navy and Marine Corps have concentrated on internal ethics since the early 1990s.
What Carmola, Elshtain, Pike and the combat veterans all agreed on was that strong, competent leadership can address nearly every ethical problem in the war zone.
A firm hand will keep troops in line while reducing stress levels, Alvarez and Uy said. The ethics report showed that units with enlisted officers who were highly rated had less than half the rates of post traumatic stress disorder, anxiety and depression compared with those that had poorly rated leaders.
"One time, we captured two insurgents with rocket-propelled grenades and improvised explosive devices. . . . A few weeks earlier, we had taken a loss from an IED," Alvarez said. "So we have these guys and we are law. We know that if we turn them in, there is a good chance they'll be out of jail in a few weeks. Do you kill them? No, because it is wrong. Leadership calls right from wrong. Leadership was the answer. Leadership is the answer."
Among the report's other findings:
The length of combat exposure is the main factor influencing a service member's mental health.
Ten percent of respondents said they had mistreated an Iraqi. The number was an average of all responses for behaviors such as assaulting a noncombatant and unnecessarily damaging an Iraqi's property.
Troops diagnosed with mental-health problems were much more likely to engage in unethical behavior on the battlefield than those with no psychological ills.
Only 42 percent of soldiers who screened positive for a mental-health problem went on to seek help from a chaplain, primary-care doctor or behavioral specialist. That's because the Army's mental-health treatment system is largely voluntary.
Nearly 66 percent of respondents personally knew a service member who was killed in combat in Iraq.
Besides seeking greater leadership and more psychological training for various military personnel, the Mental Health Advisory Team recommended that the Pentagon create a joint system for all service branches to monitor and report mental-health needs. It also encouraged commanders to establish a training program devoted solely to battlefield ethics for soldiers and Marines.
At the end of its list, the team suggested that the Pentagon extend the interval between deployments to 18 to 36 months so troops could mentally "reset." In contrast, the Army recently lengthened its standard tour of duty to 15 months, with at least a year of rest between each deployment. The length of a standard Marine deployment is still seven months.
Yesterday, a spokesman at Marine Corps headquarters characterized the report as "one instructive item in a series."
Lt. Col. Scott Fazekas said the Corps understands "it represents an honest and faithful attempt to capture what frontline Marines are experiencing and we will continue to examine the study and its recommendations closely."
http://www.signonsandiego.com/uniontrib/20070503/news_1n3ethics.html
Parents question their daughter's mysterious death in Iraq
February 21, 2007 -- A year and a half ago, a 19-year-old Florissant woman became the first female from Missouri to die during the Iraq war.
Private Lavena Johnson
The military was quick to point out that her death was not combat related.
Since then, her parents have struggled to find out what really happened to their daughter.
News 4's Matt Sczesny took a close look at the evidence gathered by the military and asks the question, "was it murder or suicide?"
Among the thousands of graves at Jefferson Barracks cemetery there are stories of bravery, heroism, and proud service.
Among the thousands is the grave of Private Lavena Johnson, whose story is clouded in mystery and according to her parents, marred by murder and cover-up.
Lavena's father, Dr. John Johnson, has waged his own personal crusade to find out what really happened to his daughter in Iraq on July 19, 2005.
The army ruled her death a suicide, the victim of a gunshot wound to the head.
In documents and autopsy photos obtained by the Johnson family and shared with News 4, more questions are raised than answered.
One strange fact was that Lavena was apparently abused, physically, and the autopsy didn't address the physical trauma to her body.
Military documents also show no apparent indication of suicide, her company commander wrote that Johnson was clearly happy and healthy physically and emotionally, something her mother knew by a phone conversation the day before she died.
Johnson's parents also question how their daughter at 5'1", could handle a 40 inch M-16 to kill herself while sitting.
In fact, a military laboratory even concluded that based on a gunshot residue test, Johnson may not have even handled the weapon.
Additionally, Johnson's military debit card was never found, even though she used it two hours before her death to buy candy.
No bullet was ever found where she died, and a trail of blood is seen in photos outside the tent. Even stranger, it appears as if someone tried to set her body on fire.
So if it wasn't a suicide as the Army maintains, then how did Lavena Johnson die?
Based on the autopsy photos, her father believes that she was raped.
The military is unconvinced and consider the case closed.
A Pentagon spokesman says that the case was investigated thoroughly and that there is no evidence to reopen.
News 4 tried for weeks to get the Army to say more about the death of Private Johnson, but they're only response is that the investigation is closed.
Certainly the documents military investigators have gathered seem to say a lot more.
Johnson's father is now trying to have her body exhumed at Jefferson Barracks to have an independent autopsy performed.
http://www.kmov.com/localnews/stories/kmov_localnews_070221_lavenajohnson.229c4b1a.html
FBI says U.S. criminal gangs are using military to spread their reach
December 7, 2006 GRAFENWÖHR, Germany — U.S. criminal gangs have gained a foothold in the U.S. military and are using overseas deployments to spread tentacles around the globe, according to the FBI.
FBI gang investigator Jennifer Simon said in an e-mail to Stars and Stripes this week that gang members have been documented on or near U.S. military bases in Germany, Italy, Japan, South Korea and Iraq.
"It's no secret that gang members are prevalent in the armed forces, including internationally," Simon said, adding that the FBI is preparing to release a report on gangs in the military.
Among the cases:
¶ In Iraq, armored vehicles, concrete barricades and bathroom walls have served as canvasses for spray-painted gang art. At Camp Cedar II, about 185 miles southeast of Baghdad, a guard shack was recently defaced with "GDN" for Gangster Disciple Nation, along with the gang's six-pointed star and the word "Chitown," according to the Chicago Sun-Times.
¶ In Germany, a soldier is being prosecuted this week for the murder of Sgt. Juwan Johnson, beaten to death on July 4, 2005, allegedly during a Gangster Disciple initiation in Kaiserslautern.
¶ In September, Department of Defense Dependents Schools in Europe warned teachers and parents to watch out for signs of gang activity, including the deadly MS-13 gang. At the time, DODDS-Europe public affairs officer David Ruderman said there had been two incidents in the past 18 months that involved students fighting, wearing gang colors or claiming to be members of gangs. In one of the incidents, a student's family member may have been a gang member, he said.
¶ Earlier this year, Kadena Air Base on Okinawa established a joint service task force to investigate gang-related activity involving high school teens linked through the Web site MySpace.com.
Last year, the U.S. Army conducted 11 felony investigations into gang activity, one of those being the death of Johnson, said Christopher Grey, a spokesman for the Army Criminal Investigation Command (CID) in Virginia. Three of the incidents, including the Johnson case, took place in Europe, Grey said.
"We investigate all credible reports of gang activity," Grey said, adding that CID has programs to combat gang activity in the Army.
Soldiers are reluctant to talk openly about gang problems. However, Spc. Bautista Kylock, 21, of the 2nd Cavalry (Stryker) Regiment in Vilseck, Germany, said last week that there are gang members within his unit.
Kylock blamed recent violence around Vilseck on soldiers affiliated with the Crips and Bloods street gangs.
Scott Barfield, a former Defense Department gang detective at 2nd Cav's last duty station, Fort Lewis, Wash., told the Sun-Times earlier this year that he had identified more than 300 soldiers at the base as gang members.
"I think that's the tip of the iceberg," he said.
However, Vilseck Provost Marshal Maj. Robert Ray said there is not a big gang problem in Vilseck and he has no information on gang members within 2nd Cav.
"The military comes from all walks of lives, from rich to poor, and with that comes the 'society,'" Ray said. "Are there members of the military that belong to gangs? No doubt about it. But the military is not rampant with gang members.
"The military chain of commands do not tolerate things like that and do their best to weed out problems," he said.
There are no official statistics on gang membership in the military, but some experts have estimated that 1 percent to 2 percent of the U.S. military are gang members, Simon said. That compares with just 0.02 percent of the U.S. population believed to be gang members, she wrote.
"Gang membership in the U.S. armed forces is disproportional to the U.S. population," she added.
Jim Kouri, vice president of the National Association of Chiefs of Police, wrote recently that, in addition to the Gangster Disciples, other Chicago gangs such as the Latin Kings and Vice Lords have infiltrated the military along with neo-Nazi groups.
Although there are no numbers to back it up, Simon believes gang member presence in the U.S. military is increasing.
"The U.S. Army has reported an increase in gang-related activity in the military, although their numbers are low," she said.
Gang-related activity in the military is highly underreported, and the Army is the only branch of the military that collects gang-related statistics, she wrote.
"It's often in the military's best interest to keep these incidents quiet, given low recruitment numbers and recent negative publicity. The relaxation of recruiting standards, recruiter misconduct and the military's lack of enforcement (gang membership is not prohibited in the Army) have compounded the problem and allowed gang member presence in the military to proliferate," Simon said.
http://stripes.com/article.asp?section=104&article=42002
Affiliation with a gang isn't a crime under military law
A blast wall on a U.S. base in Taji, Iraq, shows one set of gang graffiti crossing out another set.
December 08, 2006 Affiliation with a gang doesn't automatically keep a member or potential recruit out of the military, and it isn't a crime under military law, according to Pentagon officials.
"Consistent with First Amendment values, mere affiliation with, or having a tattoo representative of, a street gang does not automatically prevent service in the armed forces," David S.C. Chu, undersecretary of defense for personnel and readiness, said in an Aug. 26 letter to the ABC News show "Primetime," supplied by the military Thursday to Stars and Stripes.
"But it is considered in the context of the whole person. Of course, engagement in criminal activity, whether or not it is associated with a gang, directly compromises one's eligibility to serve in the military," Chu wrote.
The Pentagon mandates that "military personnel must reject participation in organizations that espouse supremacist causes; attempt to create illegal discrimination based on race, creed, color, sex, religion or national origin; advocate the use of force or violence; or otherwise engage in efforts to deprive individuals of their civil rights," Chu said, citing a Department of Defense directive.
There is no definition for "gang" in the Uniform Code of Military Justice. But military prosecutors can charge servicemembers for crimes that might be linked to gang activity, such as assault or larceny, according to Lt. Cmdr. Wendy Snyder, a spokeswoman for Navy Region Europe.
Once a servicemember takes "active participation" — such as publicly rallying, fundraising, recruiting or training members — they are legally culpable.
Army regulation 190-45, revised in February 2006, defines a gang as: "A group of individuals whose acts of crime are committed against the public at large as well as other groups. A gang usually has in common one or more of the following traits: geographic area of residence; race or ethnic background. They usually have a defined hierarchy that controls the general activities of its members."
The Army's definition is similar to those used by big-city police. The Chicago Police Department, for example, defines a gang as "an organized group that participates in criminal, threatening or intimidating activity within a community. The anti-social group has three or more individuals, evolves from within the community and has a recognized leadership as well as a code of conduct. It is united during peaceful times as well as during times of conflict," according to department spokesman Patrick Camden.
"It exhibits the following characteristics in varying degrees: specific names and recognizable colors, definable hierarchy, geographic territory, regular meeting pattern, code of conduct and organized criminal activity."
Within the Navy there is "no specific prohibition, but all personnel who enlist have basic training which includes Navy core values and other programs … which emphasize the Navy's zero-tolerance policy for organizations posing a threat to civil rights of others, or whose focus is supremacist, racist, extremist causes," Snyder said.
There is no indication gangs are present and active on Navy bases in Europe, said Naval Criminal Investigative Service agent David Di Paola, assistant special agent in charge for general criminal investigations for NCIS European field office.
"I'm not saying that there aren't any former or current members, I'm saying that maybe they are not active, or they are keeping a low profile," Di Paola said.
"Our screening is a lot better than it has been in the past," he added. "The type of sailor or Marine who comes overseas is a better quality sailor or Marine. … We're keeping our eyes open. We're sensitive to the possibility."
The Air Force, meanwhile, recently addressed gang activity as part of an Oct. 11 memo on participation in unlawfully discriminatory organizations: "While participation in gang activity may be illegal or inappropriate for a variety of reasons, gangs, per se, do not automatically fall within the proscriptions of the Air Force Instruction. Many gangs do, however, engage in discrimination or act to deprive others of their civil rights.
"Again, the role of the judge advocate is to assist commanders in determining when gang membership falls within the proscription and when it may be necessary to rely on other measures to address gang activity."
http://stripes.com/article.asp?section=104&article=42031
A look at criminal cases against U.S. troops stemming from the deaths of Iraqis since March 2003:
Convictions:
Staff Sgt. Cardenas J. Alban, convicted of killing a severely wounded 16-year-old Iraqi during fighting in Baghdad's Sadr City. He was sentenced to one year's confinement, demoted to private and given a bad-conduct discharge.
Staff Sgt. Johnny Horne Jr., pleaded guilty to unpremeditated murder in the same case as Alban. He was sentenced to three years in prison, had his rank reduced to private, forfeited wages and was given a dishonorable discharge. His prison sentence was later reduced to one year to be consistent with Alban's case.
Cpl. Dustin Berg of the Indiana National Guard, convicted and sentenced to serve 18 months in prison and a bad-conduct discharge for the shooting death of an Iraqi police officer.
Spc. Rami Dajani, convicted of involuntary manslaughter (accessory after the fact) and making a false statement following the fatal shooting of an Iraqi translator. He was sentenced to 18 months in confinement, reduced in rank to private and given a bad-conduct discharge.
Spc. Charley L. Hooser, convicted of involuntary manslaughter in the same case involving Dajani. Hooser was sentenced to three years in prison and given a reduction in rank to private and a bad-conduct discharge.
Capt. Rogelio "Roger" Maynulet, convicted of assault with intent to commit voluntary manslaughter in the shooting death of a wounded Iraqi. He got no prison time, but was dismissed from the armed forces.
Pvt. Federico Daniel Merida of the North Carolina National Guard, pleaded guilty to killing a 17-year-old Iraqi soldier after the two had consensual sex. He was sentenced to 25 years in prison, reduced in rank to private and dishonorably discharged.
Marine Maj. Clarke Paulus, convicted of dereliction of duty and maltreatment in a case stemming from the death of an Iraqi prisoner who was dragged out of his holding cell by the neck, stripped naked and left outside for seven hours in 2003. Paulus, who commanded a Marine detention camp in Iraq, was dismissed from the service but received no prison time.
Sgt. 1st Class Tracy Perkins, acquitted of involuntary manslaughter in the alleged drowning of an Iraqi man, but convicted of assault for forcing the man and his cousin into the Tigris River. He was sentenced to six months in prison, reduced in rank and had to forfeit $2,000.
1st Lt. Jack Saville, pleaded guilty to assault and other crimes in the same incident as Perkins and was sentenced to 45 days in prison, and had to forfeit $2,000 for six months.
Pfc. Edward Richmond, convicted of voluntary manslaughter for shooting an Iraqi in the back of the head. He received three years in prison, had to forfeit all pay, and was dishonorably discharged.
Sgt. Michael P. Williams, convicted of one premeditated murder and unpremeditated murder in the deaths of unarmed civilians during operations near Sadr City. He was sentenced to life in prison and given a reduction in rank and a dishonorable discharge. His sentence was later reduced to 25 years.
Spc. Brent May, convicted of unpremeditated murder in the same incident as Williams. He was sentenced to five years and dishonorably discharged.
Chief Warrant Officer Lewis Welshofer of the 3rd Armored Cavalry Regiment, found guilty of negligent homicide and negligent dereliction of duty in the death of Iraqi Maj. Gen. Abed Hamed Mowhoush after interrogation at a detention camp. A military jury ordered a reprimand and forfeiture of $6,000 of his salary, and restricted him to his home, office and church for two months.
Chief Warrant Officer Jefferson L. Williams, Sgt. 1st Class William Sommer and Spc. Jerry Loper were charged with murder and dereliction of duty along with Welshofer. The Army dropped the murder charges against Williams and Loper in exchange for their testimony against Welshofer. The murder charge against Sommer was also dropped. Williams, Sommer and Loper received administrative punishment.
Jorge Diaz, convicted of murdering an Iraqi man, who Diaz fatally shot while the man's hands were cuffed. Diaz was sentenced to seven years in prison, reduced in rank to private and given a dishonorable discharge.
Spc. James P. Barker, one of four Fort Campbell soldiers accused in the rape of a 14-year-old Iraqi girl and the killing of her and her family, pleaded guilty and was sentenced to 90 years in prison.
National Guard Sgt. Milton Ortiz Jr. was charged in the shooting death of an unarmed Iraqi man near Ramadi. He was reduced in rank to specialist after pleading guilty to conspiracy to obstruct justice by placing a rifle near a mortally wounded Iraqi, and also threatening and assaulting an Iraqi in an unrelated incident.
Petty Officer Melson J. Bacos pleaded guilty to kidnapping and conspiracy to kidnap and making false official statements in the shooting death of an Iraqi man in Hamdania. Under his plea deal, Bacos received 12 months in the brig.
Pfc. John J. Jodka III pleaded guilty to aggravated assault and conspiracy to obstruct justice in the same case as Bacos. Jodka was sentenced to 18 months confinement.
Lance Cpl. Jerry E. Shumate, Jr. pleaded guilty to aggravated assault and obstruction of justice in the same case as Jodka and Bacos and was sentenced to 21 months.
Lance Cpl. Tyler A. Jackson pleaded guilty to aggravated assault and obstruction of justice in the same case as Shumate, Jodka and Bacos. Jackson was sentenced to 21 months.
news links
Panel acquits GI of murder. But the Iraq sniper is found guilty of planting a rifle and insubordination. http://www.latimes.com/news/nationworld/world/la-fg-iraq9nov09,1,7754309.story?coll=la-headlines-world
Cleared or acquitted:
Marine 2nd Lt. Ilario Pantano, cleared of murder charges in the shooting deaths of two Iraqi civilians. Pantano had been accused of riddling the two with bullets and hanging a warning sign on their corpses as a grisly example to insurgents.
Staff Sgt. Shane Werst, acquitted of premeditated murder in the shooting death of an unarmed Iraqi. Werst said he fired to save a fellow soldier.
National Guard Spc. Nathan B. Lynn, who was charged along with Sgt. Milton Ortiz, was cleared in the shooting death of an unarmed Iraqi man near Ramadi. He had faced a voluntary manslaughter charge.
Pending cases:
Sgt. Lawrence G. Hutchins III, Cpls. Marshall L. Magincalda and Trent D. Thomas, and Lance Cpl. Robert B. Pennington, are charged with premeditated murder in the shooting death of an Iraqi man in Hamdania, the same case in which Bacos, Jodka, Shumate and Jackson were charged. In addition to murder, the four remaining defendants are also charged with kidnapping, conspiracy and other offenses.
Pfc. Corey R. Clagett, Spc. Juston R. Graber, Staff Sgt. Raymond L. Girouard and Spc. William B. Hunsaker are charged with the premeditated murder of three male detainees. Clagett, Girouard and Hunsaker are also charged with obstructing justice for allegedly threatening to kill another soldier who was a witness in the case.
Sgt. Paul E. Cortez, Pfc. Jesse V. Spielman and Pfc. Bryan L. Howard are accused in the rape of a 14-year-old Iraqi girl and the killing of her and her family, the same case in which co-defendant Barker pleaded guilty. The cases of the three men have been referred to courts-martial. A fifth man, accused ringleader former Pvt. Steven Green, 21, has pleaded not guilty to civilian charges including murder and sexual assault.
http://www.nctimes.com/articles/2006/12/03/news/top_stories/21_55_2212_2_06.txt
Valor medal process tarnished?
The recognition of valor is critical to morale and to the military's tradition of honor. The Bronze Star and Purple Heart, both with Oak Leaf Clusters, awarded to Army Sgt. Joseph Perry, who was killed by a sniper in Iraq, are recorded on his headstone at Fort Rosecrans.
November 12, 2006 By any measure, Army Staff Sgt. David Bellavia robed himself in glory while fighting in Iraq.
After telling his squad to take positions outside, he entered an enemy-held house during the second battle of Fallujah on Nov. 10, 2004. Under fire and moving from room to room, he killed four insurgents and wounded one.
Bellavia's actions in the home and elsewhere that day saved the lives of three squads and earned him the awe of fellow soldiers. His unit nominated him for a Medal of Honor. Instead, he received a Silver Star for combat heroism.
His experience with the military awards process has turned Bellavia into a crusader against it. Now out of the Army, he has joined a widening and sometimes bitter debate over how the services reward valor – a debate that has prompted a major Pentagon review of the standards.
Bellavia sees a capricious system tilted in favor of officers and against enlisted grunts, who do most of the fighting. Medals are frequently awarded by desk-bond generals and colonels serving well outside the combat zone, he said.
The significant differences among the service branches regarding what constitutes valor also bother Bellavia.
"You have guys who have lost their limbs, and all they're getting is a Purple Heart," said Bellavia, a resident of Batavia, N.Y., and a co-founder of a pro-war veterans' organization.
Sniping over medals of valor crops up during every war. But several military experts said it has never been more intense than it is over Iraq and Afghanistan, where guerrilla ambushes can turn supply lines into front lines with the explosion of a single bomb.
To Vietnam War veteran and military historian Bing West, the awards system is a scandal.
"It's out of control," said West, whose book "No True Glory" chronicled the Fallujah battles of 2004. "The overall system is broken and does a great disservice to the individuals who served."
Problem admitted
The Department of Defense has tacitly admitted the problem. Last summer, Pentagon officials created a commission to update the rules.
The 20-member panel includes mid-grade officers and senior enlisted members from each branch of the military. They will hold biweekly meetings through March, then produce recommendations for the defense secretary, said Bill Carr, the deputy undersecretary for military personnel policy.
The commission's mandate includes adopting unified guidelines for awards that all of the services give out, such as the Bronze Star and the Purple Heart, Carr said. It also will clarify the differences between awards given for service and those that celebrate valor.
The commission will look at whether combat awards can go to troops serving anywhere in the world, as the Air Force advocates, or only to those serving in the war theater, as the other services argue.
Overall, the panel "really is wide open for anything a military service wants to raise," Carr said.
Still, he considers the process a routine update, not the major overhaul demanded by critics.
"I think it's fine-tuning," he said. "Most believe the process, as it is today, is working."
The troops themselves have a strong sense of who deserves what and, more importantly, who doesn't.
Sgt. Ronn Cantu, 28, who served in the same battalion as Bellavia during 2004-05, recalled the reaction when his unit commander read a citation bestowing a medal to a soldier for doing his job as a gunner.
"There was snickering and looks exchanged among the guys in formation," said Cantu, who will return to Iraq in December with his new unit, the 1st Cavalry Division. "We just said 'Oh, well.' "
Tricky business
Combat troops disclaim any interest in medals, and no one worries about Silver Stars or Navy Crosses in the heat of battle. But when a general pins on a valor award, service members pay attention to who gets what.
"Marines will humbly say, 'It doesn't matter.' Well, let me tell you, it does matter," said Maj. Douglas Zembiec, who commanded a highly decorated Marine Corps company from Camp Pendleton during battles in Fallujah. "The men do appreciate awards. They reinforce positive, valorous action." Valor awards are intertwined with the military's finely honed tradition of honor.
The awards process is complex and, at least to the troops, mysterious. A service member's command gathers eyewitness accounts and someone writes up a narrative with a recommendation for a medal.
That recommendation proceeds up the chain of command. The most commonly given valor awards – the Bronze Star and the Commendation Medal, awarded by the Army, Air Force and Navy/Marine Corps – are decided by review boards within the member's own unit. The recommendation can be approved, upgraded, downgraded or rejected.
The military's highest awards – the Medal of Honor, the Navy Cross, the Air Force Cross, the Distinguished Service Cross and the Silver Star – need Pentagon approval, a longer process.
Recognizing valor is a tricky business; the criteria are highly subjective and rife with ambiguity. Jealousy and second-guessing are almost inevitable.
Should an Army cook who grabbed a machine gun and repelled an enemy attack get a higher award than someone who was trained to fire that gun? Should an officer be more highly rewarded for courageous deeds because he carries more responsibility into battle, or should an enlisted soldier get the higher award for fulfilling duties above his pay grade?
These are the kinds of questions that medal arbiters must sort out, typically months after an event took place and with only the written statements of witnesses for guidance.
"The people who need to make the decision don't really know what happened," Bellavia said.
Medal in the mail
Bellavia's nomination for the Medal of Honor was written for his unit by an embedded reporter who witnessed his actions in the Fallujah house. The magazine journalist had ignored Bellavia's warning to wait outside.
Later, Bellavia's squad announced that he would receive a Distinguished Service Cross during a welcome-home ceremony to be held shortly after the 1st Infantry Division returned from Iraq to its then-headquarters in Germany. Without explanation, the announcement was withdrawn just before the event.
Bellavia left the Army soon afterward and couldn't find out the status of his nomination for the Medal of Honor. He got his answer a few months ago when a Silver Star arrived at his home via third-class mail.
"It was a terribly embarrassing process," he said.
Bellavia believes the nomination fell through the cracks after his company commander and executive officer were killed in combat and his division commander retired.
Now he is lobbying through the Vets for Freedom group for upgraded medals for some of his former Army mates.
"It's like pulling teeth to get these guys awards once they've left (the military)," he said. "We harass Congress, almost on a daily basis."
Out of proportion?
Differing standards for awards from one service to another is what most troubles West, the author.
Since the terrorist attacks of Sept. 11, 2001, the Navy and Air Force have awarded 3,216 and 1,666 valor medals, respectively. These branches have only a few troops serving ground combat roles in the Iraq war.
"The Air Force and the Navy have no right distributing this proportion of awards for valor versus the Army and Marine Corps," West said.
The Army and Marine Corps, including their National Guard and Reserve components, have given out 5,452 and 3,379 valor awards above the level of achievement medal, respectively. They have taken the brunt of deaths and injuries during the current wars in the Middle East.
West advocates a permanent joint-services board to review valor awards and even out the disparities among the branches.
Carr said the Pentagon's review into how valor medals are awarded will be wide-ranging. He doesn't mind taking heat if it boosts service members' confidence in the integrity of the commendations.
"It's OK. Everybody's a stakeholder," Carr said. "If any members of the (military) think it can be done better, they should let us know."
Plenty of passionate veterans are prepared to do just that.
"I'm going to fall on my grenade to make this right," Bellavia said. "We've got enough garbage to deal with. Get this award stuff worked out."
http://www.signonsandiego.com/uniontrib/20061112/news_lz1n12homeof.html
Fallujah
the shooting of detainees during a battle for the Anbar province city on Nov. 9, 2004
Second Marine charged in detainee killings
Sgt. Jermaine A. Nelson accused of unpremeditated murder in 2004 incident
August 21, 2007 CAMP PENDLETON -- The Marine Corps has charged Sgt. Jermaine A. Nelson with murder in the killing of an Iraqi detainee in Fallujah nearly three years ago. He is the second person to be charged in the case.
Nelson is accused of taking part in the shooting of four detainees during a battle for the Anbar province city on Nov. 9, 2004.
"Our message is to tell the citizens of the United States and the citizens of Iraq that we will fully investigate these matters and hold our own people accountable," Marine Corps spokesman Lt. Col. Chris Hughes said Monday. "But we also stress that this Marine is innocent until proven guilty."
Nelson was charged last week. The Marine Corps announced the charges Monday.
Nelson is assigned to the 1st Marine Division at Camp Pendleton and is free while awaiting a hearing to determine if the case against him will stand. He has served three tours in Iraq.
Last week the U.S. attorney's office in Los Angeles filed a voluntary manslaughter charge against a former member of the same unit, Sgt. Jose L. Nazario. The 27-year-old former Marine is charged with shooting and killing two of the detainees.
Because he is no longer a Marine, Nazario was charged in civilian court. Nelson was charged in military court with unpremeditated murder, akin to second-degree murder in civilian court.
After his appearance in U.S. District Court in Riverside last week, Nazario maintained his innocence.
"I would just like to say that I am a U.S. Marine who fought for his country and I am innocent of these charges," said Nazario, who led the squad of Camp Pendleton troops under investigation in the slayings.
The criminal complaint filed against Nazario alleges he shot two detainees "in the heat of passion caused by adequate provocation unlawfully and intentionally killed two unarmed male human beings."
Documents detailing the charges against Nelson were not immediately available.
Charges filed in the case against Nazario include an affidavit from Naval Criminal Investigative Service Special Agent Mark Fox. The agent wrote that Nazario and other Marines from Camp Pendleton's 3rd Platoon, Kilo Company from the base's 3rd Battalion, 1st Marine Regiment detained the Iraqis during a house search.
The document contends that Nazario shot the two in the head at close range and that he directed other Marines to shoot two other Iraqis.
"Who else wants to kill these guys, because I don't want to do it all myself," Nazario is quoted in the Fox affidavit as saying to his Marines.
The affidavit also states that Nazario told an unidentified Marine that the squad needed "to take care of them" so the unit could complete its assignment
Nazario is free on $50,000 bond. It was not immediately clear Monday whether Nelson was in jail.
The 2004 fight for Fallujah was one of the major battles of the Iraq war.
On Nov. 6, 2004, a group of troops from Camp Pendleton launched an assault to wrest control of the city from insurgents. Intense fighting took place during the next week, and the city was declared free of insurgents in December. Several Camp Pendleton Marines were later honored with awards, including two Navy Cross citations for valor in battle.
Before the fight, the military spent a week telling residents to leave and dropping leaflets over the city warning that a battle was coming and that people left inside the city would be considered enemy combatants.
Despite the warnings, the law of armed conflict that governs the military forbids the shooting of any enemy combatant who has been disarmed and does not pose a threat.
Military law expert Gary Solis said he is surprised that either man has been charged.
"Credible allegations of war crimes must be investigated, but that doesn't necessarily mean they should be charged," said Solis, a former Marine prosecutor who teaches military law at Georgetown University.
http://www.nctimes.com/articles/2007/08/21/news/top_stories/1_01_338_20_07.txt
Pendleton Marines investigated in alleged killings
NORTH COUNTY ---- A federal agency is investigating whether Camp Pendleton Marines shot and killed a group of prisoners in the city of Fallujah, Iraq, in 2004, according to several military and legal sources.
The sources told the North County Times that the Naval Criminal Investigative Service probe centers on whether five to 10 Marines violated the laws of war.
"They have interviewed about 20 people so far and some have been read their rights," a source with direct knowledge of the probe said Friday.
Under the Uniform Code of Military Justice, the killing of a captured enemy combatant who does not present a threat is considered murder.
Some of those being questioned are no longer in the Marine Corps, and at least one has hired a private defense attorney who specializes in military law, sources said. Because of the sensitivity of the matter, the five sources who spoke with the newspaper agreed to do so on the condition that they not be named.
The Marines are believed to have been involved in the deaths of as many as eight people who were captured during one of the largest battles of the Iraq war, according to the sources.
Questions the sources said that they could not immediately answer include whether the Iraqis had been declared prisoners, whether any or all were bound in any way and where specifically the slayings occurred.
The incident reportedly took place on or about Nov. 10, 2004, three days after the U.S. launched a major assault in Fallujah, an Anbar province city in western Iraq that at the time was under insurgent control.
One of the Marines has said that the troops believed they were carrying out the orders of their commanders when the insurgents were shot, according to one source.
A Marine Corps public affairs officer referred questions to the Naval Criminal Investigative Service in Washington, D.C.
Agency spokesman Ed Buice, who was presented with questions reflecting the essence of what the newspaper had been told, said Friday that no one would comment on the report. The Department of the Navy law enforcement agency is composed of civilian investigators who are not under Marine Corps control.
The sources said the Fallujah investigation arose as a result of the ongoing prosecution of three Camp Pendleton enlisted Marines charged with murder in the deaths of 24 Iraqi civilians in the city of Haditha on Nov 19, 2005. Four officers face charges of dereliction of duty for failing to fully investigate the deaths at Haditha.
In another ongoing Iraqi death case, five of eight Camp Pendleton troops have pleaded guilty for their roles in the abduction and shooting of a retired Iraqi policeman in April 2006. Three defendants in that incident face trial this summer.
None of the men being prosecuted in the Haditha or Hamdania cases are subjects of the Fallujah investigation, a source said.
The battle for Fallujah was one of the major fights of the Iraq war that came after the insurgency took control of the city after U.S. forces left it in April of that year.
On Nov. 6, 2004, a main group of troops from Camp Pendleton's 3rd Battalion, 1st and 5th Marine Regiments, along with supporting Marine units and U.S. Army forces, massed and launched an assault to take back the city the next day.
Intense fighting took place during the next week with the final resistance cleared by late December. Several Camp Pendleton Marines were later honored with awards such as the Navy Cross for valorous actions during the fighting.
Ninety-five U.S. servicemen were killed during the fight for the city and more than 600 were wounded. An estimated 1,350 insurgents were killed and an additional 1,000 captured, according to military authorities.
A movie about the battle, titled "No True Glory: The Battle for Fallujah," based on a book written by Bing West is scheduled for release next year.
Lt. Gen. James Mattis, current commander of the I Marine Expeditionary Force at Camp Pendleton and head of Marine forces throughout the Middle East, is portrayed in the movie by actor Harrison Ford. Mattis helped lead the invasion of Iraq in 2003 and was one of the top commanders at Fallujah.
http://www.nctimes.com/articles/2007/06/30/news/top_stories/21_36_446_29_07.txt
Friendly Fire
AP: Startling findings in Tillman probe
By SCOTT LINDLAW and MARTHA MENDOZA, Associated Press Writers 40 minutes ago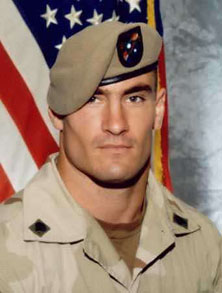 In a remote and dangerous corner of Afghanistan, under the protective roar of Apache attack helicopters and B-52 bombers, special agents and investigators did their work.
They walked the landscape with surviving witnesses. They found a rock stained with the blood of the victim. They re-enacted the killings — here the U.S. Army Rangers swept through the canyon in their Humvee, blasting away; here the doomed man waved his arms, pleading for recognition as a friend, not an enemy.
"Cease fire, friendlies, I am Pat (expletive) Tillman, damn it!" the NFL star shouted, again and again.
The latest inquiry into Tillman's death by friendly fire should end next month; authorities have said they intend to release to the public only a synopsis of their report. But The Associated Press has combed through the results of 2 1/4 years of investigations — reviewed thousands of pages of internal Army documents, interviewed dozens of people familiar with the case — and uncovered some startling findings.
One of the four shooters, Staff Sgt. Trevor Alders, had recently had PRK laser eye surgery. He said although he could see two sets of hands "straight up," his vision was "hazy." In the absence of "friendly identifying signals," he assumed Tillman and an allied Afghan who also was killed were enemy.
Another, Spc. Steve Elliott, said he was "excited" by the sight of rifles, muzzle flashes and "shapes." A third, Spc. Stephen Ashpole, said he saw two figures, and just aimed where everyone else was shooting.
Squad leader Sgt. Greg Baker had 20-20 eyesight, but claimed he had "tunnel vision." Amid the chaos and pumping adrenaline, Baker said he hammered what he thought was the enemy but was actually the allied Afghan fighter next to Tillman who was trying to give the Americans cover: "I zoned in on him because I could see the AK-47. I focused only on him."
All four failed to identify their targets before firing, a direct violation of the fire discipline techniques drilled into every soldier.
There's more:
_Tillman's platoon had nearly run out of vital supplies, according to one of the shooters. They were down to the water in their CamelBak drinking pouches, and were forced to buy a goat from a local vendor. Delayed supply flights contributed to the hunger, fatigue and possibly misjudgments by platoon members.
_A key commander in the events that led to Tillman's death both was reprimanded for his role and meted out punishments to those who fired, raising questions of conflict of interest.
_A field hospital report says someone tried to jump-start Tillman's heart with CPR hours after his head had been partly blown off and his corpse wrapped in a poncho; key evidence including Tillman's body armor and uniform was burned.
_Investigators have been stymied because some of those involved now have lawyers and refused to cooperate, and other soldiers who were at the scene couldn't be located.
_Three of the four shooters are now out of the Army, and essentially beyond the reach of military justice.
Taken together, these findings raise more questions than they answer, in a case that already had veered from suggestions that it all was a result of the "fog of war" to insinuations that criminal acts were to blame.
The Pentagon's failure to reveal for more than a month that Tillman was killed by friendly fire has raised suspicions of a coverup. To Tillman's family, there is little doubt that his death was more than an innocent mistake.
One investigator told the Tillmans that it hadn't been ruled out that Tillman was shot by an American sniper or deliberately murdered by his own men — though he also gave no indication the evidence pointed that way.
"I will not assume his death was accidental or 'fog of war,'" said his father, Pat Tillman Sr. "I want to know what happened, and they've clouded that so badly we may never know."
And so, almost two years after three bullets through the forehead killed the star defensive back — a man President Bush would call "an inspiration on and off the football field" — the fourth investigation began.
This time, the investigators are supposed to think like prosecutors:
Who fired the shots that killed Pat Tillman, and why?
Who insisted Tillman's platoon split and travel through dangerous territory in daylight, against its own policy? Who let the command slip away and chaos engulf the unit?
And perhaps most of all: Was a crime committed?
___
The long and complicated story of Pat Tillman's death and the investigations it spawned began five years ago, in the smoking ruins of the World Trade Center.
"It is a proud and patriotic thing you are doing," Defense Secretary Donald H. Rumsfeld wrote to Tillman in 2002, after Tillman — shocked and outraged by the Sept. 11 attacks — turned down a multimillion-dollar contract with the Arizona Cardinals to join the elite Army Rangers.
The San Jose, Calif., native enlisted with his brother Kevin, who gave up his own chance to play professional baseball. The Tillmans were deployed to Iraq in 2003, then sent to Afghanistan.
The mission of their "Black Sheep" platoon in April 2004 sounded straightforward: Divide a region along the Pakistan border into zones, then check each grid for insurgents and weapons. They were to clear two zones and then move deeper into Afghanistan.
But a broken-down Humvee known as a Ground Mobility Vehicle, or GMV, stalled the unit on an isolated road. A mechanic couldn't fix it, and a fuel pump flown in on a helicopter didn't help.
Hours passed. Enemy fighters watched invisibly, plotting their ambush.
Tillman's platoon must have presented an inviting target. There were 39 men — including six allied Afghan fighters trained by the CIA — and about a dozen vehicles.
Impatience was rising at the tactical operations center at Forward Operating Base Salerno, near Khowst, Afghanistan, where officers coordinated the movements of several platoons. Led by then-Maj. David Hodne, the so-called Cross-Functional Team worked at a U-shaped table inside a 20-by-30-foot tent with a projection screen and a satellite radio.
(Hodne, now a lieutenant colonel and executive officer for the 75th Ranger Regiment, declined to be interviewed on the record by the AP — as did nearly every person involved in the incident.)
When the Humvee broke down, the Black Sheep were nearing the end of their assignment; all that was left was to "turn one last stone and then get out," Hodne would testify. The unit was then to head for Manah, a small village where it would spend the night.
The commanders had already given the Black Sheep an extra day to get into its grid zones. High-ranking commanders were "pushing us pretty hard to keep moving," said Hodne.
"We had better not have any more delays due to this vehicle," he told his subordinates.
At the operations center, the Black Sheep's company commander, then-Capt. William C. "Satch" Saunders, was feeling the heat to get the platoon moving.
"We wanted to make sure we had a force staged to confirm or deny any enemy presence in Manah the next day, so we would not get ourselves too far behind setting ourselves up for our next series of operations," he recalled later to an investigator.
The order came down to split the platoon in two to speed its progress.
Saunders initially told investigators that Hodne had issued the order, but later, after he was given immunity from prosecution, he acknowledged it was his decision alone.
Hodne later said he was in the dark — "I felt like the village idiot because I had no idea what they were doing," he recalled. The decision was foolhardy, he said. Divided in two, "they didn't have enough combat power to do that mission" of clearing Manah, he testified. (Other commanders have insisted that splitting the platoon was perfectly safe and a common practice.)
One thing is clear: The order sparked a flurry of activity by the Black Sheep.
One of the gunners who shot Tillman said his unit didn't even have time to look at a map before getting back on the road.
"We were rushed to conduct an operation that had such flaws," said Alders. "Which in the end would prove to be fatal."
"If anything, this sense of urgency was as deadly to Tillman as the bullet that cut his life short," Alders wrote in a lengthy statement protesting his expulsion from the Rangers. "We could have conducted the search at night like we did on the follow-up operations or the next morning like we ended up doing anyway. Why, I ask, why?"
An investigator, Brig. Gen. Gary M. Jones, would later agree that an "artificial sense of urgency" to keep Tillman's platoon moving was a crucial factor in his death: "There was no specific intelligence that made the movement to Manah before nightfall imperative."
An officer involved in the incident told AP there was, however, general intelligence of insurgent activity in this region, historically a Taliban hotbed.
That suspicion would be confirmed when the Black Sheep drove through a narrow canyon, its walls towering about 500 feet, and came under fire from enemy Afghans. Chaos broke out and communications broke down.
After the platoon split, the second section of the convoy roared out of the canyon, into an open valley and straight at their comrades a few minutes ahead. A Humvee packed with pumped-up Rangers opened fire, killing the friendly Afghan and Tillman, though he desperately sought to be recognized.
Later, at least one of the same Rangers turned his guns on a village where witnesses say civilian women and children had gathered. The shooters raked it with fire, the American witnesses said; they wounded two additional fellow Rangers, including their own platoon leader.
___
Had it happened in the United States, police would have quickly cordoned off the area with "crime scene" tape and determined whether a law had been broken.
Instead, the investigations into Tillman's death have cascaded, one after another, for the past 30 months.
For Mary Tillman, getting to the bottom of her son's death is more than a personal quest.
"This isn't just about our son," she said. "It's about holding the military accountable. Finding out what happened to Pat is ultimately going to be important in finding out what happened to other soldiers."
In the days after the shootings, the first officer appointed to investigate, then-Capt. Richard Scott, interviewed all four shooters, their driver, and many others who were there. He concluded within a week that the gunmen demonstrated "gross negligence" and recommended further investigation.
"It could involve some Rangers that could be charged" with a crime, Scott told a superior later.
Then-Lt. Col. Jeffrey Bailey — the battalion commander who oversaw Tillman's platoon — later assured Tillman's family that those responsible would be punished as harshly as possible.
But no one was ever court-martialed; staff lawyers advised senior Army commanders reviewing the incident that there was no legal basis for it.
Instead, the Army punished seven people; four soldiers received relatively minor punishments known as Article 15s under military law, with no court proceedings. These four ranged from written reprimands to expulsion from the Rangers. One, Baker, had his pay reduced and was effectively forced out of the Army. The three other soldiers received administrative reprimands.
Scott's report circulated briefly among a small corps of high-ranking officers.
Then, it disappeared.
Some of Tillman's relatives think the Army buried the report because its findings were too explosive. Army officials refused to provide a copy to the AP, saying no materials related to the investigation could be released.
The commander of Tillman's 75th Ranger Regiment, then-Col. James C. Nixon, wasn't satisfied with Scott's investigation, which he said focused too heavily on precombat inspections and procedures rather than on what had happened.
Scott "made some conclusions in the document that weren't validated by facts" as described by the participants, Nixon would tell later investigators.
Nixon assigned his top aide, Lt. Col. Ralph Kauzlarich, to lead what became the second investigation. Kauzlarich harshly criticized Baker and the men on his truck.
Among other things, Baker should have known that at least two of his subordinates had never been in a firefight, and should have closely supervised where they shot.
"His failure to do so resulted in deaths of Cpl. Tillman and the AMF soldier, and the serious wounding of two other (Rangers)," Kauzlarich concluded. "While a great deal of discretion should be granted to a leader who is making difficult judgments in the heat of combat, the command also has a responsibility to hold its leaders accountable when that judgment is so wanton or poor that it places the lives of other men at risk."
Still, the Tillman family complained that questions remained: Who killed Tillman? Why did they fire? Were the punishments stiff enough?
"I don't think that punishment fit their actions out there in the field," said Kevin Tillman, who was with his brother the day Pat was killed but was several minutes behind him in the trailing element of a convoy and saw nothing.
"They were not inquiring, identifying, engaging (targets). They weren't doing their job as a soldier," he told an investigator. "You have an obligation as a soldier to, you know, do certain things, and just shooting isn't one of your responsibilities. You know, it has to be a known, likely suspect."
And so, in November 2004, acting Army Secretary Les Brownlee ordered up yet another investigation, by Jones.
The result was 2,100 pages of transcripts and detailed descriptions of the incident, but no new charges or punishments. The report, completed Jan. 10, 2005, was provided — with many portions blacked out or removed entirely — to the Tillman family. It has not been released to the public; the family found it wanting.
Pressed anew by the Tillmans, the Pentagon inspector general announced a review of the investigations in August 2005. And in March 2006, they launched a new criminal probe into the actions of the men who shot at Tillman.
___
The veteran Pentagon official who is overseeing these latest inquiries, acting Defense Department Inspector General Thomas Gimble, has called the Tillman probe the toughest case he has ever seen, according to people he recently briefed.
Investigators are looking at who pulled the triggers and fired at Tillman; they are also looking at the officers who pressured the platoon to move through a region with a history of ambushes; the soldiers who burned Tillman's uniform and body armor afterward; and at everyone in the chain of command who deliberately kept the circumstances of Tillman's death from the family for more than a month.
Military investigators under Gimble's direction this year visited the rugged valley in eastern Afghanistan where Tillman was killed. It was a risky trip; the region is even more dangerous today than it was in 2004.
According to one person briefed by investigators, the contingent included at least two soldiers who were there the day of the incident — Staff Sgt. Matthew Weeks, a squad leader who was up the hill from Tillman when he was shot, and the driver of the GMV that carried the Rangers who shot Tillman, Staff Sgt. Kellett Sayre.
When the current inquiry began, the Pentagon projected it would be completed by September 2006. Now Gimble and the Army's Criminal Investigation Command, known as CID, are aiming to finish their work by December, say lawmakers and other officials briefed by Gimble.
CID is probing everything up to and including Tillman's shooting. The inspector general's office itself has a half-dozen investigators researching everything that happened afterward, including allegations of a coverup.
The investigators have taken sworn testimony from about 70 people, some of whom said they were questioned for more than six hours. But Gimble said investigators have been hindered by a failure to locate key witnesses, even some who are still in the active military.
Moreover, those who are now out of the Army, including three of the four shooters, can't be court-martialed. They could be charged in the civilian justice system by a U.S. attorney, but such a step would be highly unusual.
The law that allows it, the Military Extraterritorial Jurisdiction Act, has been invoked fewer than a half-dozen times since its enactment in 2000, said Scott Silliman, executive director of Duke Law School's Center on Law, Ethics and National Security and a high-ranking Air Force lawyer until his retirement in 1993.
The investigation, Gimble has said, is also complicated because of "numerous missteps" by the three previous investigators, particularly their failure to follow standards for handling evidence.
Gimble promised lawmakers in a series of briefings this fall that his investigation "will bring all to light." He has committed to releasing his detailed findings to key legislators, Pentagon officials and the Tillman family, as well as a synopsis to the general public, congressional aides said.
Gimble declined an AP request for an interview.
___
To date, a total of seven soldiers have been disciplined in Tillman's death.
Bailey, the 2nd Ranger Battalion commander who was camped out about two miles down the road with another unit the night Tillman died, surveyed the shooting scene hours after it occurred.
"I don't think there was any criminal act," he said. "It was a fratricide based upon a lot of contributing factors, confusion," he testified to an investigator in late 2004.
Some high-ranking officers, including Bailey, believe a lack of control in the field was to blame — starting with the platoon leader and including the soldiers who didn't identify their targets.
Bailey, who approved punishments for several of the soldiers, said he disagreed with the platoon's protests that they were "doing what we asked them to do under some very difficult circumstances, and that there were mistakes made but they weren't negligent mistakes."
He also testified that "three gunners were, to varying degrees, culpable in what had happened out there." And he said he wanted a fourth soldier involved — the squad leader, Baker — "out of the military."
Baker soon left the Army.
As for others involved:
_The three other shooters — Ashpole, Alders and Elliott — remained in the service initially but Elliott and Ashpole have since left. Elliott struck a deal with authorities; in exchange for his testimony to investigator Jones, the Army gave him immunity from prosecution "in any criminal proceedings."
_The platoon leader, Lt. David Uthlaut, was later bumped down from the Rangers to the regular Army for failing to prepare his men prior to the shootings, according to Bailey.
"They didn't do communications checks. They didn't check out their equipment. So they'd been there 24 hours," Bailey testified. "For example, some of the weapons systems weren't even loaded with ammunition. Many of the soldiers didn't know where they were going. They didn't have contingency plans."
A non-commissioned officer on the ground that day, however, testified that the unit carried out required communications checks.
Uthlaut was also wounded by fellow Rangers in the incident. He was awarded the Purple Heart and later promoted to captain.
_Saunders, the company commander, was given the authority to punish three soldiers — even though he himself was reprimanded for his own poor leadership. Both Saunders and Hodne received formal written reprimands for failing to "provide adequate command and control" of subordinate units — administrative punishments lighter than the Article 15s handed down to the soldiers who shot at Tillman. This obviously hasn't hurt Hodne's career; he has since been promoted.
"I thought it was (the commanders') fault, or part of their fault that we were even in this situation, when they're telling us to split up," said Ashpole.
Some lawmakers have warned that if this probe does not clear up all questions on Tillman's death, they may press for congressional hearings. Others have said Congress could call for an independent panel of retired military officers and other experts to conduct an outside probe.
Rep. Mike Honda, a Democrat who represents the San Jose district where Tillman's family lives, has pressed the Pentagon for answers on the status of its investigations.
"I'm very impatient and at times cynical," Honda said. But, he said, the honor of the military — and the confidence of the public in the military and the government — are at stake.
"So if we pursue the truth and wait for it," he said, "it may be worthwhile."
http://news.yahoo.com/s/ap/20061109/ap_on_re_us/inquest_for_a_warrior
Soldiers in 'guns for coke' scandal
September 24, 2006 BRITISH soldiers have been caught smuggling stolen guns out of Iraq and allegedly exchanging them for cocaine and cash on the black market.
Security officials confirmed this weekend that soldiers from the 3rd Battalion the Yorkshire Regiment are at the centre of a criminal inquiry by the Royal Military Police (RMP) into a "guns for cocaine" network.
Their alleged involvement with organised crime is a fresh blow to the British Army after a week in which a corporal from the Duke of Lancaster's Regiment admitted he had committed a war crime against an Iraqi civilian.
Although drug use is increasing in the armed forces, this is the first time military police have evidence that stolen weapons are being sold to pay for them.
One of the first soldiers from the Yorkshire Regiment to have been arrested is alleged to have bought drugs by trading handguns, including Glock pistols, smuggled from Iraq to Germany on at least six occasions.
A security source said some of the weapons had been exchanged for about 50 grams of cocaine with a street value of £2,500. The drugs were sold to other British soldiers serving in Iraq.
http://www.timesonline.co.uk/article/0,,2087-2372277,00.html
Youtube
Iraqi Kid Runs For Water
http://www.youtube.com/watch?v=m9A_vxIOB-I
Lets make things clear, I have never been to Iraq let alone set foot out of the borders of the US. I received this video from someone who was over there. The person I got it from did not make the disk, they got it from a friend they met while over there. So there's no telling how many times this was handed down.
So stop sending me messages telling me to burn in hell. I will just ignore you and then block you.
If you work for the media and you want more info, I don't have it. What I do have are dozen of other short videos that where on the DVD that I received from the source. The other videos might shed some light and help answer some questions. Just put the pieces together and you might see the picture you're after.
http://thepiratebay.org/tor/3563014/Iraq
Cowboy soldiers on notice over videos
September 18, 2006 DEFENCE chief Angus Houston has ordered a full investigation into video images posted on the internet showing skylarking Australian soldiers in Baghdad brandishing weapons. One of the clips posted on the popular website www.youtube.com shows an Australian Defence Force soldier pointing a pistol at a fellow Digger dressed in an Arab headdress, with other clips showing soldiers aiming their weapons at one another.
Air Chief Marshal Houston said yesterday that there was "no place in the ADF for members who behave in this way".
And army chief Peter Leahy flagged the possibility of soldiers being sacked.
"We will complete an investigation and then, put simply, I will be asking a question why these soldiers should remain in the army," he said yesterday.
"They will have an opportunity to put their case and it will be done under the correct administrative procedures. Everybody would expect me to ask that question: if you are that silly, what are you doing in the army?"
http://www.theaustralian.news.com.au/story/0,20867,20429796-601,00.html
Hamdaniya
August, 2008
Sgt. sentenced to 15 years in Hamdaniya case http://www.navytimes.com/news/2007/08/ap_hutchins_sentence_080307/
General releases 2 Marines from brig
August 8, 2007 CAMP PENDLETON - A general at Camp Pendleton has cut short the sentences of two Marines imprisoned in the Hamdaniya murder case and might do the same for two others.
Pvts. Tyler Jackson and Jerry Shumate Jr. were released Monday by order of Lt. Gen. James Mattis, commander of the 1st Marine Expeditionary Force. The base announced Mattis' decision a day later.
Jackson and Shumate had been sentenced to 21 months in the brig as part of pretrial deals in which they pleaded guilty to aggravated assault and conspiracy to obstruct justice. They were demoted in rank from corporal to private.
In exchange, government officials dropped the charge of premeditated murder. A conviction on that count would have sent the defendants to prison for the rest of their lives, with no possibility of parole.
Before Mattis released them Monday, Jackson and Shumate were scheduled to leave the brig as early as December.
Mattis took into account various factors, including "their military experience, relative rank and position of authority and their specific involvement" in the Hamdaniya case, according to a statement that Camp Pendleton issued yesterday.
Jackson, Shumate, five other Marines and a Navy corpsman kidnapped and killed a man in Hamdaniya, Iraq, on April 26, 2006. They snatched the victim from his bed, took him to a roadside hole, bound him and killed him with a barrage of bullets.
Afterward, the squad tried to disguise the killing as a firefight between U.S. troops and an insurgent trying to plant a bomb.
The defendants said they partly wanted to send a message that insurgents and their supporters in Hamdaniya would pay a dear price. They had become frustrated after repeatedly arresting a suspect and turning him over to Iraqi authorities, only to see him released every time.
Five of the defendants finalized plea agreements with the government, receiving prison terms of one to eight years. Four of them – Jackson, Shumate, Pvt. John Jodka III and Hospitalman Melson Bacos – had left prison as of yesterday. Jodka was a private first class and Bacos was a petty officer third class before their demotions.
The remaining Hamdaniya defendants went through courts-martial.
Two of them – Cpls. Trent Thomas and Marshall Magincalda – were demoted to the rank of private and released from the brig at the end of their trials. Each had spent about 450 days in prison by then.
That leaves two Hamdaniya defendants still behind bars: Pvts. Robert Pennington and Lawrence Hutchins III. Before the Marine Corps demoted them, Pennington was a corporal and Hutchins was a sergeant.
Pennington is serving an eight-year sentence and Hutchins, who oversaw the Hamdaniya abduction and killing, was sentenced to 15 years last week.
Mattis is considering whether to cut short the prison terms for Pennington and Hutchins, Marine spokesman Lt. Col. Sean Gibson said yesterday.
Those defendants' attorneys and family members are asking Mattis to reduce the sentences.
http://www.signonsandiego.com/uniontrib/20070808/news_1m8hamda.html
Marine found guilty of murder in Iraq killing
August 2, 2007 CAMP PENDLETON – Marine Sgt. Lawrence G. Hutchins III was found guilty of unpremeditated murder Thursday and faces a sentence of life in prison without parole for orchestrating and supervising the kidnapping and execution of an Iraqi man in April 2006.
Hutchins, 23, is the first Marine to be convicted of a wartime murder since the Vietnam War.
The jury also found him guilty of larceny, making a false official statement and conspiracy to commit murder, larceny and obstruction of justice.
It acquitted him of kidnapping, obstruction of justice, assault and housebreaking, as well as one other count of making a false official statement.
"This is the most important trial in the Hamdaniya case," Lt. Col. John Baker, the lead prosecutor, said shortly before the verdict was delivered.
"I'm nervous," he said, particularly because of the prosecution's previous failures to win a murder conviction against the other Hamdaniya defendants.
Before rising out of his chair to hear the verdict, Hutchins took a sip of soda. He stood at attention, stared straight ahead and showed no emotion as the jury foreman announced "guilty" or "not guilty" to each count.
Standing behind him were his brother, his wife, Reyna, and his 2½-year-old daughter, Kylie.
Two weeks ago, Hutchins told a newspaper near his hometown of Plymouth, Mass., that he expected to do well in his trial and would be acquitted of all charges lodged against him.
Jurors deliberated for 10 hours before rendering their verdict, which some saw as reflecting the U.S. military's indifference to the killing of Iraqi civilians and others saw as sympathy for troops who became increasingly frustrated by high-stress urban combat.
Like Hutchins, the jurors were all Iraq war veterans.
They began hearing testimony from Hutchins' friends and family members Thursday afternoon, and are expected to start deliberating his sentence the next day.
Hutchins, six other Camp Pendleton Marines and a Navy corpsman took the Iraqi man from his bed, dragged him to a roadside hole, bound his hands and feet and shot him repeatedly on April 26, 2006, in the rural town of Hamdaniya.
Then they tried to disguise the crime as a firefight between U.S. troops and an insurgent who was discovered trying to plant a bomb.
The defendants have long acknowledged that the abduction and execution took place. But they said a variety of reasons compelled them to kill, including post-traumatic stress disorder and pressure from commanders to get tougher with insurgents.
Hutchins' hopes might largely rest on convincing jurors that forces beyond his control prompted the Hamdaniya incident. His attorneys also plan to portray him as a caring, family oriented man and a highly responsible Marine.
Even before the verdict was announced, Hutchins' attorneys practiced showing photos of Hutchins on a big screen facing the jury box. The strategy is commonly used in efforts to humanize the convicted.
Besides the visual display and expected testimony of Hutchins' supporters, Hutchins is expected to take the stand on his own behalf.
Appealing for sympathy from the jurors could knock years off Hutchins' prison sentence.
http://www.signonsandiego.com/news/military/20070802-1339-bn02hutchins.html
July, 2007
Marine gets no prison time for Iraqi's death
Corporal to be demoted, discharged in slaying case
July 21, 2007 A Marine who faced a possible life sentence in connection with the abduction and slaying of an Iraqi civilian is going to go free. Cpl. Trent Thomas, who has been held in the brig for more than 14 months, will be demoted and discharged from the military but will receive no prison time, a military jury ruled yesterday.
Cpl. Trent Thomas entered a Camp Pendleton courtroom yesterday before his sentencing by a court-martial panel, which deliberated for about an hour.
Thomas, 25, hugged his wife and mother after the sentence was announced at 9:15 a.m. in a Camp Pendleton courtroom. The court-martial panel began its deliberations an hour earlier.
"It's truly a blessing when you see God work," said Thomas, surrounded by his family and lawyers at a news conference after the sentencing.
The sentence was a defeat for military prosecutors, who were seeking 15 years in prison. Earlier this week, the panel convicted Thomas of conspiracy and kidnapping, but acquitted him of premeditated murder in a case that has received international attention.
The panel of nine Marines – each of whom has done at least one tour of Iraq – could have imposed a sentence of life in prison without parole.
Thomas and seven other Camp Pendleton servicemen were accused of snatching an Iraqi man, taking him to a roadside hole, binding him and shooting him to death April 26, 2006, in the city of Hamdaniya. Thomas was arrested in Iraq and, until yesterday, had been held in custody.
Yesterday's events were a striking turn in the case. Only a few months earlier, it appeared likely that Thomas would go to prison.
He initially pleaded guilty in January as part of a deal that would have sent him to prison for 12 years. Five other defendants also accepted plea deals. At the time, Thomas admitted having taken part in the killing, saying his unit – members of Kilo Company, 3rd Battalion, 5th Marine Regiment – "wanted to make a statement that Marines were sick and tired of being bombed and stuff."
But he withdrew the plea less than a month later. During his court-martial, Thomas' lawyers blamed his conduct in Iraq on a series of factors, including combat-related stress and poor command leadership.
Thomas expressed no remorse yesterday for his actions, saying, "I believe we did what we needed to do to save Marines' lives."
Four other Marines and a Navy corpsman have pleaded guilty for their roles in the killing. Their sentences have ranged from one to eight years in prison. Two other Marines face court-martial, including Cpl. Marshall Magincalda, whose trial began yesterday with jury selection.
Some legal experts applauded Thomas' defense team's strategy of spurning a 12-year plea deal and exposing their client to the possibility of life in prison by opting to go to trial.
But others said the favorable sentence had less to do with legal acumen than the will of a jury that for whatever reasons did not want to send Thomas to prison.
John Hutson, a former Navy judge advocate general who is president and dean of the Franklin Pierce Law Center in Concord, N.H., said the jurors' combat time in Iraq probably played a part in their decision.
"These jurors brought the sum total of their experience to the deliberations," Hutson said. "They know the frustrations and the anger felt in combat. It's really tough to figure out what the jury was thinking, but surely their combat experiences played a role."
Eugene Fidell, a military defense lawyer based in Washington, D.C., and president of the National Institute of Military Justice, said the decision might not breed confidence in the military justice system to police its own.
"I have a feeling that this decision will cause many people in Iraq and the country and the military to scratch their heads," Fidell said. "I think the sentence is not one that will foster confidence in the military justice system."
Thomas' lead attorney, Victor Kelley, said a crucial factor in Thomas' favor was that most of the members of the court-martial panel have combat experience in Iraq. Of the nine panel members, five have done two tours in Iraq, and three have done three tours.
The jurors saw this case not in a vacuum, Kelley said, adding, "We wanted people who had been shot at, people who had been in the same place that Cpl. Thomas has been in."
Military prosecutors in the case were unavailable for comment.
Maj. Haytham Faraj, another member of Thomas' legal team, spoke with jurors after the sentencing and said the panel appeared to have sympathy for Thomas. They thought he was a man of character and a good Marine, Faraj said.
During yesterday's news conference, Thomas said the case is "far from over for me because two members of the unit still face trial."
At his side were his wife, Erica; daughter, Kayla, 2; and son, Trent, 5½ weeks. Erica Thomas, 24, said the couple lost their home in Perris in Riverside County because of the financial hardship of their legal ordeal. They now live in Fontana.
The families of some of the other Marine defendants in the case were delighted that Thomas received no prison time.
"It's some well-deserved justice for a hero, from the father of another hero," said John Jodka, father of Pvt. John Jodka III of Encinitas, who pleaded guilty and is serving 18 months in prison.
In addition to a bad-conduct discharge from the Marine Corps, Thomas will also receive a reduction in rank to private.
http://www.signonsandiego.com/uniontrib/20070721/news_1n21trent.html
Corporal says brass sanctioned violence
CAMP PENDLETON – A Marine unit that was saddled with a "soft" combat image resorted to two-fisted measures in Iraq that escalated within days to murder, a witness who was a member of the unit testified yesterday. Cpl. Saul Lopez-Romo said he and other Marines turned violent after "higher-ups" purportedly questioned the unit's toughness. The platoon was further insulted when Marines from other units were added to stiffen its resolve, he said.
In that pressurized atmosphere, violence directed at Iraqi detainees spread, Lopez-Romo said. In his opinion, it was sanctioned by superiors. Asked if he felt pressure from superiors to increase the level of violence to prove the unit was not soft, Lopez-Romo said, "Yes, sir."
Asked if this expectation affected Cpl. Trent Thomas, the subject of a court-martial, and the other members of the squad, he said, "I believe we all did."
Lopez-Romo added: "People started changing in ways I never would have thought. The state of mind started changing – little by little, we started doing things."
Lopez-Romo testified on the sixth day of Thomas' court-martial in the kidnapping and killing of an Iraqi man April 26, 2006. Thomas was charged with seven other defendants from Kilo Company, 3rd Battalion, 5th Marine Regiment.
Five have signed plea agreements and have testified that their squad planned to capture and execute an insurgent named Saleh Gowad.
When the patrol couldn't find Gowad on April 26, members went next door and grabbed a sleeping man, according to previous testimony and court records.
The squad bound the man and forced him into a shallow hole, where they shot him to death, five defendants have testified. Prosecutors said the unit then tried to disguise its crime as self-defense against an Iraqi who started a firefight when he was discovered planting a roadside bomb.
The defense called Lopez-Romo to describe the command climate and the mind-set of Thomas in the days leading up to the shooting death.
Lopez-Romo said the 2nd Platoon beat Iraqis and that in at least one case, an officer shoved a pistol in the face of an Iraqi to get information. A sergeant is said to have choked an Iraqi during interrogation.
Lopez-Romo said he believed superiors approved of the tactics.
He explained the practice of shooting dead or wounded suspected insurgents, a practice known as "dead checks," saying, "Anyone worth shooting once is worth shooting twice."
Thomas and Sgt. Lawrence Hutchins, described as the architect of the killing and another defendant, are accused of performing dead checks in this case. Hutchins' trial is set to begin in the coming weeks.
The man the Marines are accused of murdering had been known until this week as a 52-year-old former police officer named Hashim Ibrahim Awad. But because of prosecution difficulties in identifying him, he is now referred as "an unknown Iraqi."
In addition to Lopez-Romo, the defense called character witnesses who spoke highly of Thomas on his third tour of Iraq at the time of the incident.
Next week, doctors are expected to testify that Thomas suffers from post-traumatic post traumatic stress disorder and traumatic brain injury.
http://www.signonsandiego.com/news/northcounty/20070715-9999-1m15thomas.html
Marine testimony: All Iraqi men viewed as insurgents
CAMP PENDLETON, California (AP) July 15, 2007 -- A corporal testifying in a court-martial said Marines in his unit began routinely beating Iraqis after officers ordered them to "crank up the violence level."
Cpl. Trent D. Thomas faces murder charges after witnesses alleged he shot a 52-year-old Iraqi man.
Cpl. Saul H. Lopezromo testified Saturday at the murder trial of Cpl. Trent D. Thomas.
"We were told to crank up the violence level," said Lopezromo, testifying for the defense.
When a juror asked for further explanation, Lopezromo said: "We beat people, sir."
Within weeks of allegedly being scolded, seven Marines and a Navy corpsman went out late one night to find and kill a suspected insurgent in the village of Hamdaniya near the Abu Ghraib prison. The Marines and corpsman were from 2nd Platoon, Kilo Company, 3rd Battalion, 5th Regiment.
Lopezromo said the suspected insurgent was known to his neighbors as the "prince of jihad," and had been arrested several times and later released by the Iraqi legal system.
Unable to find him, the Marines and corpsman dragged another man from his house, fatally shot him, and then planted an AK-47 assault rifle near the body to make it appear he had been killed in a shootout, according to court testimony.
Four Marines and the corpsman, initially charged with murder in the April 2006 killing, have pleaded guilty to reduced charges and been given jail sentences ranging from 10 months to eight years. Thomas, 25, from St. Louis, Missouri, pleaded guilty but withdrew his plea and is the first defendant to go to court-martial.
Lopezromo, who was not part of the squad on its late-night mission, said he saw nothing wrong with what Thomas did.
"I don't see it as an execution, sir," he told the judge. "I see it as killing the enemy."
He said Marines consider all Iraqi men part of the insurgency.
Lopezromo and two other Marines were charged in August with assaulting an Iraqi two weeks before the killing that led to charges against Thomas and the others. Charges against all three were later dropped.
Thomas' attorneys have said he suffers from post-traumatic stress disorder and traumatic brain injury from his combat duty in Falluja in 2004. They have argued that Thomas believed he was following a lawful order to get tougher with suspected insurgents.
Prosecution witnesses testified that Thomas shot the 52-year-old man at point-blank range after he had already been shot by other Marines and was lying on the ground.
Lopezromo said a procedure called "dead-checking" was routine. If Marines entered a house where a man was wounded, instead of checking to see whether he needed medical aid, they shot him to make sure he was dead, he testified.
"If somebody is worth shooting once, they're worth shooting twice," he said.
The jury is composed of three officers and six enlisted personnel, all of whom have served in Iraq. The trial was set to resume Monday.
http://www.cnn.com/2007/US/law/07/15/marines.iraq.ap/index.html
Marine felt like 'sitting duck'
Lance corporal tells of Iraq killing
February 17, 2007 CAMP PENDLETON – Lance Cpl. Robert B. Pennington got perhaps his final chance yesterday to explain why he helped snatch and kill a man last April in Hamdaniya, Iraq.
Robert Pennington
He said his squad felt its survival depended on a pre-emptive strike against insurgents in Hamdaniya.
"There was no clear effort to protect us from a clear danger," Pennington testified on the third day of his sentencing hearing. "There was no real ability to go out there and take down the insurgency."
Pennington called the Marine Corps' mission in Hamdaniya "fuzzy at best and convoluted at worst" and said he felt like a "sitting duck."
Those reasons, he said, spurred him and seven other Camp Pendleton servicemen to carry out a murder plot designed to put fear in the hearts of insurgents. Pennington was on his third deployment when that plot resulted in the April 26 death of Hashim Ibrahim Awad, a retired policeman and grandfather.
On Tuesday, Pennington pleaded guilty to kidnapping and conspiracy charges stemming from the incident. He is expected to be sentenced today.
In hindsight, he added: "Saying I feel bad does not begin to describe it. I can honestly say that I am sorry that I did what I did."
Pennington told the judge, Col. Steven Folsom, that he realized the unlawful nature of his actions. He also apologized to the Marine Corps and the victim.
"I know bad things happen during war," he said. "My goals were not to cause any undue pain to Mr. Awad, his family or my family."
Earlier in the day, the defendant's mother choked up while describing the changes that multiple combat tours in Iraq wrought on her son.
Deanna Pennington testified that he changed from being a goodhearted boy to a hardened man whom she barely recognized after he returned from the second battle of Fallujah in late 2004.
"My Bobby was gone; his spirit was dead," she said. "The smile was gone. When he smiled, it never reached his eyes anymore."
She said other aspects of her son's behavior sometimes turned bizarre.
Deanna Pennington recounted how he and a visiting Marine buddy chased a neighbor's cat because they believed it was a threat. They told her that insurgents in Iraq often attacked U.S. troops by using animals carrying explosives or diseases.
Pennington seemed moody and lethargic after coming back from Iraq the second time, his mother testified.
"He stayed in his room and watched TV. He slept a lot," she said. "This time, even getting him out of bed was an effort.
"He was so quick to get angry, and he developed some nervous tics. He had a knife that he would stand and flick it open."
Pennington also kept a map of Fallujah – complete with marks showing where his comrades died – in his pocket, his mother said.
"I would only ask that he be allowed to heal," she implored the judge. "He has been at war during his entire adult life; he needs time to heal."
The defense team then called on Glenn Lipson, a clinical psychologist in North County who interviewed Pennington, his family and others to construct a psychological profile of the defendant.
Lipson said Pennington exhibited symptoms suggesting post-traumatic stress disorder, including emotional numbness, startled responses and the sense that nothing is real.
"He had become a machine that was capable of taking life for the mission and feeling a sense of pride that he was able to do it effectively," Lipson testified.
Pennington's behavior turned reckless after the Nov. 10, 2004, death of a close friend, Lance Cpl. Eric Hodges, in Fallujah, Lipson said.
"He did not care if he died or not," Lipson said. "He would storm houses (in Iraq) by himself."
http://www.signonsandiego.com/uniontrib/20070217/news_2m17pennin.html
Marine takes plea deal in Iraq death
February 14, 2007 CAMP PENDLETON – A fifth Camp Pendleton serviceman has admitted to helping with a plot that ended in the killing of a civilian last April in Hamdaniya, Iraq.
Marine Lance Cpl. Robert B. Pennington was accompanied yesterday by his fiancee, Krystal Morry (right), his mother, Deanna Pennington, and his father, Terry Pennington (trailing).
Lance Cpl. Robert B. Pennington pleaded guilty to kidnapping and conspiracy charges yesterday as part of a plea agreement. Pennington's action ended weeks of speculation that he would admit wrongdoing in the death of Hashim Ibrahim Awad in exchange for less prison time.
Through his attorney, Pennington also pleaded not guilty to murder, larceny and housebreaking. The prosecution agreed to drop those charges as long as Pennington fulfills the terms of his plea deal, including a promise to testify against his co-defendants.
Pennington, 22, of Washington, said he helped abduct Awad but didn't fire any shots during the victim's execution.
The Hamdaniya case involves Pennington, six other Marines and a Navy corpsman from the Kilo Company, 3rd Battalion, 5th Marine Regiment. They are accused of killing Awad on April 26, then trying to disguise his death as the result of a firefight that Awad started when he was discovered planting a bomb.
The three defendants who haven't entered into plea agreements with the prosecution are Sgt. Lawrence G. Hutchins III, the alleged ring leader; Cpl. Marshall L. Magincalda; and Cpl. Trent D. Thomas.
Last month, Thomas acknowledged helping to nab Awad from his home, taking him to a roadside hole and joining four others from the squad in gunning him down. Thomas pleaded guilty to unpremeditated murder and lesser charges as part of his plea agreement.
But in a surprising twist Friday, Thomas got a judge to reverse his guilty pleas. Thomas' attorneys said their client ultimately realized that he was following lawful orders from Hutchins and thus had justification for his actions against Awad.
Yesterday, the Marine Corps announced the refiling of charges – including murder – against Thomas, who now awaits court-martial. Prosecutors can't use his previous testimony in future proceedings.
Yesterday, military judge Col. Steven Folsom accepted Pennington's plea agreement, but not before inquiring about the defendant's mental state.
"Do you believe any of the combat you experienced affected the wrongful nature of your actions?" Folsom asked.
Pennington, a three-tour veteran of the Iraq war, said war duty had wrought some changes in him but that at the time of Awad's death, "I did know right from wrong."
For roughly two hours, Pennington talked about the circumstances leading up to Awad's abduction and how the victim was killed. Most of his testimony confirmed what other defendants had said: Hutchins masterminded a plot to kidnap and kill Saleh Gowad, a suspected insurgent whom the Marines had arrested several times only to have Iraqi police release him.
"The task of capturing him and punishing him for good had fallen to us," Pennington testified.
Pennington and three other squad mates couldn't abduct Gowad because a woman confronted them as they approached his house, he said. So they decided to carry out Hutchins' alleged back-up plan: If they couldn't catch Gowad or one of his brothers, they would kill a military-age man.
Pennington said Awad was told that he would be taken to Abu Ghraib prison for overnight questioning and be released the next day. Instead, the unit's members bound and gagged Awad, then shot dozens of rounds at him.
Defense attorney David Brahms failed to have Folsom remove himself from Pennington's case. Folsom had presided over the sentencing of Petty Officer 3rd Class Melson Bacos, who became the first Hamdaniya defendant to finalize a plea agreement.
Folsom sentenced Bacos to 10 years in prison, but Bacos was allowed to take a lighter sentence given by Lt. Gen. James Mattis as part of the plea bargaining.
Pennington's hearing is expected to end tomorrow.
http://www.signonsandiego.com/uniontrib/20070214/news_7m14pennin.html
Marine sergeant arraigned in Hamdania killing
Marine Corps Sgt. Lawrence Hutchins, 22, of Plymouth, Mass., left, leaves his arraignment hearing with his wife, Reyna Hutchins, at Camp Pendleton on Thursday. Hutchins, along with six other Marines and a Navy corpsman are charged with kidnapping and killing an Iraqi man last April in the town of Hamdania, Iraq.
December 08, 2006 CAMP PENDLETON ---- The sergeant who led a Marine Corps squad charged in the April kidnapping and shooting death of an Iraqi civilian was formally arraigned Thursday and assigned an April 23 trial date.
Sgt. Lawrence G. Hutchins III made a brief appearance in a Camp Pendleton courtroom where he said little other than to tell a military judge he was exercising his right to enter a plea at a later date. He also reserved making a declaration on whether he wants his case tried before a judge or jury.
Hutchins, 22, is charged with murder, kidnapping, assault, conspiracy and related offenses in connection with the April 26 slaying of Hashim Ibrahim Awad, a 52-year-old retired Iraqi policeman.
Hutchins was the senior man in charge of a platoon of seven Marines and a Navy corpsman on an ambush patrol in the Iraqi village of Hamdania the night of April 25 and early morning of April 26.
Three of the Marines Hutchins had led and who were also charged in the Iraqi's death have pleaded guilty to lesser offenses and said in court that Hutchins was the architect of the plot that led to the death of Awad, who was taken from his home, bound, gagged and shot.
The platoon's corpsman, Petty Officer Melson Bacos, was the first to plead guilty and point the finger at Hutchins, a native of Plymouth, Mass., who was on his first assignment in Iraq when the killing occurred. Bacos was sentenced to 12 months in the brig.
Hutchins' civilian attorney, Rich Brannon, has said his client is innocent and that the full story has yet to be told. Brannon did not appear before reporters following a 20-minute hearing before Marine Col. Steven Folsom.
Last month, Hutchins was briefly let out of the brig so he could wed his high school sweetheart, Reyna, in a ceremony at base chapel. She attended the hearing.
His father, Larry Hutchins Jr., told his hometown newspaper this week that his son's arraignment on charges punishable by up to life in prison was a difficult moment.
"You've known for a long time that it's coming," he told the Patriot Ledger newspaper in Plymouth. "But when it happens, it's like a slap in the face."
The Awad killing isn't the only trouble his son faces. He also is charged with assault for the alleged beating of three other Iraqis in Hamdania on April 10. A Marine officer, 2nd Lt. Nathan Phan, also is charged with assault in that incident and is scheduled for a pretrial hearing next month.
Along with Hutchins, three other Marines from the Kilo Company platoon from Camp Pendleton's 3rd Battalion, 5th Marine Regiment also face trials next year for their alleged roles in the death of the Iraqi.
Besides Bacos, those who have pleaded guilty in the case are Pfc. John Jodka III of Encinitas, who was sentenced to 18 months in the brig, and Lance Cpls. Jerry Shumate Jr. and Tyler Jackson, who each received 21-month jail terms.
Facing trial in addition to Hutchins are Cpls. Marshall Magincalda and Trent D. Thomas, and Lance Cpl. Robert Pennington.
The men who have pleaded guilty and agreed to testify against their squad mates, if called, have each said that Hutchins wanted to target a suspected insurgent named Saleh Gowad, but couldn't find him so they settled on Awad.
The father of 11 children, Awad has been described by military prosecutors as an innocent victim who had no known ties to insurgents.
The case is unrelated to the expected charges being lodged soon against other Marines from the 3rd Battalion, 1st Marine Regiment in the slaying of 24 Iraqi civilians in the city of Haditha in November 2005.
A Marine Corps spokesman said this week that prosecutors are finalizing a charging decision in that case. Reports suggest that up to six Marines could face felony accusations in the Haditha incident.
http://www.nctimes.com/articles/2006/12/08/news/top_stories/1_01_05_10_6_06.txt
Marine fights Iraq killing case
Corporal will face March court-martial

Marine Cpl. Trent Thomas (center) walked out of a courtroom at Camp Pendleton yesterday after pleading not guilty in the April 26 kidnapping and killing of an Iraqi man in Hamdaniya.
November 15, 2006 CAMP PENDLETON – A Marine accused of being a leader in the abduction and killing of an Iraqi man last spring pleaded not guilty yesterday and had his court-martial set for March 12.
Cpl. Trent D. Thomas affirmed his decision to fight charges that he helped orchestrate the execution of Hashim Ibrahim Awad on April 26 in Hamdaniya, a town west of Baghdad.
Standing at attention in a courtroom on the base, Thomas answered, "Yes, sir!" when the judge, Lt. Col. Tracy A. Daly, asked if he wanted to plead not guilty to charges of murder, kidnapping, housebreaking, larceny and other crimes.
With his wife sitting behind him, Thomas also said he would challenge assault charges arising from a separate incident in Hamdaniya.
Thomas is among eight members of the Kilo Company, 3rd Battalion, 5th Marine Regiment implicated in Awad's death. Court documents portray him as one of four key players in the incident.
Sgt. Lawrence G. Hutchins III, the alleged mastermind, learned yesterday that he would face court-martial for the same two incidents involving Thomas. The decision was made by Lt. Gen. James Mattis, commanding general of the 1st Marine Expeditionary Force at Camp Pendleton.
Three Marines and a sailor have finalized or announced plea agreements with the prosecution. In exchange for lighter sentences based on lesser charges, they have pledged to testify against Hutchins, Thomas and two other suspects who are expected to go through trial.
Shortly after midnight April 26, Thomas set off to help catch a suspected insurgent who supposedly killed four Marines with roadside bombs, according to court documents and testimony from previous court hearings.
After failing to find the purported insurgent, Thomas and three comrades went to a neighboring house and snatched Awad, prosecutors said. They allegedly bound Awad and forced him into a shallow hole. Then they and other members of the unit opened fire on him, the court documents said.
Expecting an investigation into the matter, the squad allegedly tried to make it look as if Awad were a terrorist who provoked a firefight.
After weeks of proclaiming their innocence, the accused began making deals with the prosecution in October.
Petty Officer 3rd Class Melson Bacos was the first to strike a plea agreement. He will serve less than a year in prison after pleading guilty to kidnapping and conspiracy charges.
Pfc. John J. Jodka III and Lance Cpl. Tyler A. Jackson have pleaded guilty to aggravated assault and conspiracy to obstruct justice. Jodka is scheduled to be sentenced today, while Thomas' sentencing is slated for Thursday.
Lance Cpl. Jerry E. Schumate Jr. has agreed to plead guilty to aggravated assault and conspiracy to obstruct justice during a court-martial next week.
http://www.signonsandiego.com/news/military/20061115-9999-7m15thomas.html
Vets warn war stress will fuel atrocities
Increase is predicted as fighting drags on
Angry.
Fearful.
Frustrated.
Loyal.
Proud.
Ambiguous.
Iraq war veterans say a maelstrom of emotions engulfs U.S. troops fighting in the Middle East.
The 43-month conflict – nearly as long as the United States fought in World War II – increasingly raises basic questions: Can we win? Do we have enough troops to do the job? How long will it take?
Combat veterans say tensions arising from such questions are contributing to alleged atrocities for which troops are being tried.
They and military analysts predict that more war-crime cases will emerge as the Iraq conflict drags on and U.S. combat casualties continue.
A major case is playing out at Camp Pendleton, where eight service members are accused of kidnapping and killing a civilian in Hamdaniya, Iraq, last spring.
Last week, Lance Cpl. Tyler A. Jackson became the third Hamdaniya suspect to plead guilty in exchange for a lighter sentence. He and another Marine, Pfc. John J. Jodka III, are scheduled to be sentenced Wednesday and Thursday, respectively.
The three are expected to testify against their co-defendants.
"The world may be shocked that our troops could mow down an innocent man, but I'm not. If I served on a jury, I'd feel so much the hell they and other Marines go through in Iraq that I might not convict them," said Jay Rodriguez of San Diego, who served two combat tours in Anbar province before leaving the Marine Corps in August.
Rodriguez, 22, and other Marines said morale is low in Iraq.
"When you see more buddies getting shot up and more kids blown apart for no good reason, you start praying for an end to the war," he added. "Not re-enlisting was the easiest decision of my life."
Military investigators and prosecutors contend that breakdowns in discipline and moral behavior led to war crimes on the urban battlefields of Iraq this year.
"Too many people have done too many tours in a war that has lasted far too long," said Marine reservist Tony Pham of Corona, who suffered injuries in the December 2004 suicide bombing of a mess hall near Mosul, Iraq, that killed 22 U.S. service members and wounded 70.
"It is hard to be there for a whole year and not have some sort of breakdown. It's pretty much insanity over there," said Pham, 30, now training to become a police officer after six years in the reserves.
The latest incidents being investigated include:
The Hamdaniya killing, which took place April 26. Naval investigators accuse the eight defendants of murdering Hashim Ibrahim Awad, then trying to disguise their act as self-defense against an insurgent planting a roadside bomb.
Four soldiers accused of raping a 14-year-old Iraqi girl and then killing her and her family. The alleged crime occurred in March in Mahmudiya, a town 20 miles south of Baghdad, and involved members of the Army's elite 101st Airborne Division.
Four other soldiers from the same division being court-martialed on charges of plotting the deaths of three Iraqi detainees during a May raid on suspected insurgents near Tikrit.
A Camp Pendleton unit being probed on what, if proven true, would be the most notorious war crime in Iraq since the hostilities began with the U.S.-led invasion in March 2003. The Marines allegedly shot to death 24 civilians a year ago in Haditha, in western Iraq, after one of their own was killed in an ambush.
U.S. military personnel are exasperated by protracted guerrilla warfare in Iraq, said veterans who fought there.
"The troops get fed up. They catch a guy and (Iraqi) intelligence lets him go," said Marine Cpl. Carlos Gomez-Perez, 24, of El Cajon. "After being there a long time, it just stresses you out, and you just want to get even."
Gomez-Perez was injured during the first battle for Fallujah in spring 2004. He received the Silver Star, the nation's third-highest award for combat heroism.
He and other service members said people who have never experienced combat tend to have unrealistic expectations in judging wartime conduct.
"I think the grunts would sympathize," said Gomez-Perez, referring to the Hamdaniya case. "But if a military jury is made up of support troops or officers who've never seen any fighting, they will throw the book at (the defendants) because they have no idea what happens on the other side of the wire."
The other side of the wire.
The phrase means going from a relatively safe encampment into danger-filled territory. In Iraq today, the entire country is on the other side of the wire, Pham said.
"Random mortar fire landed on our base all the time. . . . You don't know who the enemy is, you can't see him and he is smart, constantly adapting," he said. "If a kid with a backpack (goes by) and you tell him to stop and he keeps going, what do you do? From a Marine's point of view, you take him out. From a civilian's point of view, that's murder."
Such circumstances differ from the Hamdaniya case, in which the suspects allegedly plotted to execute the Iraqi civilian.
"Killing people over there and making it look like a combat action is easy to do, but that is not the reason we are there," said Robert Talley, 45, of Temecula. The former Marine staff sergeant, who also saw action in Fallujah, retired last month after 22 years of service.
As disturbing as the underlying charges may be, courts-martial for alleged war crimes can ultimately have positive effects, said Charles Moskos, professor emeritus at Northwestern University specializing in military sociology.
"If we didn't have these trials, the world would say we're no better than a bunch of Nazis," Moskos said. "We will always have people doing evil things in combat, particularly in a place like Iraq where you don't know friend from foe. But we need people to adhere to the highest moral standards, and the military is quite correct in punishing culprits behind such atrocities."
As the Iraq war approaches its fourth anniversary, he said, Americans should brace themselves for more cases involving detainee abuse, slayings and other atrocities.
"The blurring of the killing line gets worse in Iraq the more casualties we suffer," Moskos said. "The threshold of what is acceptable in such a killing place gets lower the longer we are there."
Courts-martial are good for the public but bad for military morale, said David Segal, director of the Center for Research on the Military Organization at the University of Maryland.
"They impose upon the public a sense of reality about the true nature of war," Segal said. "We have not been getting enough of that from Iraq, so for the country this is a healthy thing. But for soldiers and Marines, it probably has a demoralizing effect."
Segal said people should understand that while "the veneer of civilization is very thin and tends to crack in war, the overwhelming number of men and women in uniform perform honorably and well."
Rodriguez, the former Camp Pendleton corporal, said he hopes the Iraq conflict will end with some sort of redemption.
"Hundreds of thousands of proud men and women have risked their lives in this war," he said. "Some good has got to come out of it. We can't be remembered for war crimes."
http://www.signonsandiego.com/uniontrib/20061113/news_1n13marines.html
Fourth Hamdania defendant reaches plea deal
November 13, 2006 NORTH COUNTY ---- The group that once stood together as the "Pendleton 8" now has only four of its members fighting charges they kidnapped and killed an Iraqi civilian last spring.
On Monday, the attorney for Lance Cpl. Jerry Shumate Jr. said his client has reached a plea bargain with prosecutors that will see him plead guilty to aggravated assault and conspiracy to obstruct justice on Monday or Tuesday of next week.
Shumate is the fourth defendant to reach a plea agreement in the April 26 death of Hashim Ibrahim Awad.
In exchange for Shumate's guilty pleas, murder, kidnapping and related charges originally filed against him will be dismissed, his attorney Steven Immel said.
Shumate admitted culpability in a statement he made to investigators on May 11, Immel said, and reaching the plea deal allow the Washington state native to serve an unspecified amount of time and move on with his life.
Later this week, two of Shumate's co-defendants who reached similar deals, Pfc. John Jodka III of Encinitas, and Lance Cpl. Tyler Jackson of Tracy are scheduled to be sentenced for their role.
http://www.nctimes.com/articles/2006/11/13/news/top_stories/111201191930.txt
Encinitas Marine pleads guilty in Hamdania killing
CAMP PENDLETON ---- An Encinitas native said Thursday that he and some of his Marine Corps squad mates gunned down a Iraqi civilian after the man scrambled out of the dirt hole they had tossed him in.
The admission from Pfc. John Jodka III came as he pleaded guilty in a Camp Pendleton courtroom to aggravated assault and conspiracy to obstruct justice, charges arising from the shooting in the middle of the night of 52-year-old Hashim Ibrahim Awad on April 26 in Hamdania, Iraq.
Jodka is the second of eight Camp Pendleton men accused in the slaying to plead guilty. He painted his platoon sergeant as the architect of the murder plot, a mission the sergeant revealed to the six lower-ranking Marines and a Navy corpsman he was leading on a combat patrol that evening.
"I agreed to the plan and agreed to go forward with it without objection," Jodka told Lt. Col. David Jones, the judge who presided over Jodka's three-hour court-martial.
The scheme laid out by Sgt. Lawrence Hutchins III, Jodka said, was to kidnap, kill and frame a man they believed to be an insurgent ---- a different man, it would turn out, than the one they killed that night.
Jodka testified that he knew what the men were doing was illegal.
"Civilians and noncombatants are not lawful targets," Jodka said when asked by the judge if he understood the U.S. military's rules of engagement on the night Awad was killed.
The 20-year-old sat rigidly with his fingers interlaced as he gave a rapid-fire, matter-of-fact description of what he saw during the shooting that landed him and seven squad mates in the Camp Pendleton brig this summer.
In exchange for the guilty plea, government prosecutors agreed to drop the original charges levied against Jodka, allegations that included kidnapping and murder.
"He is a good kid caught up in a bad situation," one of Jodka's civilian attorneys, Joseph Casas, said after the court session.
Sentencing for the young Marine is set for 8 a.m. Nov. 15.
"He will have a chance to talk about the pressures he faced in Iraq," Casas said.
The attorney declined to discuss the sentence laid out in Jodka's plea agreement.
One of Jodka's co-defendants, Petty Officer Melson Bacos, received a year in jail in his plea deal, which unfolded three weeks ago as Bacos admitted to charges of kidnapping and conspiracy to kidnap and make false statements.
Much of Jodka's testimony fell in line with the story Bacos told when he pleaded guilty on Oct. 6.
Jodka ---- who graduated from San Dieguito Academy high school in 2004 and headed to the University of California, Riverside for a semester before joining the Marines ---- was the youngest and least-experienced man accused in Awad's slaying. He had been a Marine for less than a year and in Iraq for four months when the shooting took place.
His father, John Jodka Jr, has been a vocal defender of his son. The elder Jodka joined his former wife and her parents in the first row of the courtroom as his son described the plot and the aftermath.
"I'm as proud of my son as the day he enlisted in the Marines," Jodka's father said after the hearing, choking back tears. "He stood up like a Marine."
'We got him'
Of the remaining six defendants, the cases for all but one have been ordered to trial. Hutchins, who has maintained his innocence through his family and attorneys, is awaiting word on whether he will be ordered to court-martial.
Jodka testified that he and the others were on patrol looking for insurgents planting roadside bombs ---- which the military calls IEDs, or improvised explosive devices ---- on April 25 when Hutchins called them together at about sunset.
Hutchins laid out the scheme, Jodka said, which was to kidnap and kill a man named Saleh Gowad, then to place his body in a roadside hole next to a stolen AK-47 and shovel. The men all agreed to take part in the murder plot, Jodka said.
Jodka told the judge his superiors had identified Gowad as an insurgent; Jodka said his squad had arrested Gowad at least three times previously, only to have him be released each time.
The plan was set into motion at about 1:30 a.m.
Four of the men ---- Cpls. Marshall Magincalda and Trent Thomas, Lance Cpl. Robert Pennington and Corpsman Bacos ---- all headed out to snatch Gowad from his home.
When Bacos testified three weeks ago, he said they could not find Gowad, so instead they grabbed a neighbor ---- Awad.
The four troops returned with their captive under a moonless sky, Jodka said.
"I overheard Cpl. Thomas tell Sgt. Hutchins that we got him and he's in the hole," Jodka testified, adding that the hole was about 75 yards away.
"At this point, you thought the individual was Saleh Gowad?" the judge asked Jodka.
"Yes sir," he replied.
'You know what to say'
According to the charges filed in June, the men bound the hands and feet of Awad ---- who was a retired Iraqi policeman ---- before shoving him into the hole.
Jodka said Hutchins ordered the men to open fire. But Awad stood up and scrambled out of the hole, which was about 2 1/2 feet deep.
"I don't know if he stood up after he was shot, or was shot after he stood up," Jodka said, soon adding, "I couldn't see the man in the hole at the time we were firing, sir. I only saw him stand up and run down the road to the north."
Jodka said he and the others kept shooting.
Afterward, Jodka said he was crossing the road to secure the area when he heard gunfire behind him.
"As I turned around, I saw Sgt. Hutchins, Cpl. Thomas and Lance Cpl. Pennington standing in the vicinity (of the gunfire)," Jodka said. "Cpl. Thomas and Sgt. Hutchins told me they were performing a 'dead check.' "
During his testimony on Oct. 6, Bacos said he saw Hutchins fire three shots into the man's head, and Thomas fire as many as 10 bullets into the man's chest.
Later, Jodka said, the men gathered on a roof.
"Sgt. Hutchins ... said to us if anyone were to ask what happened, the words he used were, 'You know what to say,' " Jodka said. "I took that to mean that if anyone asked, we were to say that we had seen this man approach with a shovel and begin digging and that he had engaged us and we lawfully engaged him."
Jodka told the judge that his actions discredited the Marine Corps "because of the notoriety of the case and the Iraq war."
"Anything that happens that gets reported becomes ammunition," Jodka said. "Anything like this would present an argument against the war."
Bacos and Jodka are being held in the brig at Miramar Marine Corps Air Station. The other defendants remain in the Camp Pendleton brig, where all the men were placed in late May after being returned to the U.S. from Iraq.
Following the hearing, David Brahms, a former Marine Corps general and now an attorney in private practice who representing Pennington in the Hamdania incident, said his confidence in securing his client's innocence is undiminished.
"I have never been more confident about my case after listening to this," said Brahms, who watched the Jodka court-martial from a base media center. "I have the toughest kid who has said, 'I don't want a deal, I don't even want to hear anything about a government offer.'"
As a result, Brahms said, "We are going to go ahead and plead not guilty and go to trial."
http://www.nctimes.com/articles/2006/10/27/news/top_stories/1_01_510_25_06.txt
Encinitas Marine reported ready to plead guilty in Hamdania case
CAMP PENDLETON ---- An Encinitas Marine who until now has steadfastly maintained his innocence is expected to plead guilty next week for his role in the April 26 killing of an Iraqi man, the Marine's attorneys said Friday.
The deal would make Pfc. John Jodka III the second of eight Camp Pendleton men to admit to taking part in the kidnapping and slaying of Hashim Ibrahim Awad.
Jodka, 20, is expected to plead guilty to assault and obstruction of justice, said Joseph Casas, one of the young Marine's two civilian attorneys.
Like his co-defendants, Jodka is charged with murder, kidnapping and a host of related offenses in Awad's death in the Iraqi village of Hamdania.
Casas declined to provide specific details on the sentence he expects his client to receive.
"I can't talk about any negotiations with the government, assuming there are any," he said.
Jodka is the youngest of the defendants and the lowest-ranking among the seven Marines and Navy corpsman charged in the case. He also was the least experienced, having been only four months into his first deployment in Iraq when the killing took place.
Through his attorneys and family members, Jodka has said from the beginning that he was not guilty of any wrongdoing.
His father, John Jodka Jr., a vocal critic of the prosecution, said he will forever be proud of his son.
"It's too soon for me to respond other than to say that I'm as proud of my son as the day he went in the Marines," he said. "He was the best damn PFC in Iraq."
Jane Siegel, Jodka's other hired attorney, said she believes the deal is a proper resolution for her client.
"I think that he wants to do the right thing, and I think he is," she said.
Jodka is scheduled to face a military judge in a Camp Pendleton courtroom at 9 a.m. Thursday. He will not be sentenced until some time before Thanksgiving, his attorney said.
The plea deal was first reported on the North County Times Web site early Friday afternoon.
On June 21, the Marine Corps charged the men with dragging the 52-year-old Awad out of his home, marching him about 1,000 yards, placing him in a makeshift dirt hole and shooting him to death.
They also were accused of placing a stolen AK-47 and a shovel next to the body of the retired Iraqi policeman and father of 14 children to make it appear he was an insurgent planting a roadside bomb, and then lying about it.
According to charges, Jodka was among five men said to have fired on Awad.
When Petty Officer 3rd Class Melson Bacos pleaded guilty on Oct. 6 to his role in the killing, he implicated two squad mates as triggermen: Sgt. Lawrence Hutchins, the squad leader, and Cpl. Trent Thomas, a fire team leader in the platoon.
Bacos said during his Oct. 6 court-martial that Hutchins fired three rounds into Awad's head and that Thomas fired as many as 10 bullets into the man's chest.
The corpsman's testimony came as he pleaded guilty to kidnapping and conspiracy to kidnap and make false official statements. In exchange for his plea, he was sentenced to 12 months in the brig with credit for 142 days served and an agreement he testify for the prosecution.
The squad was out looking for another man, one believed to be an insurgent, Bacos said, but settled for Awad when they could not find their original target.
Bacos' testimony represented the first public airing of what may have happened. At all the other hearings for the accused men, the investigative officers overseeing the proceedings agreed to review the bulk of the evidence in private.
A Marine Corps spokesman declined to confirm the Jodka agreement.
"It would be inappropriate for me to comment on any potential negotiations between the government and defense counsel," Lt. Col. Sean Gibson said Friday afternoon.
The accused men are all members of Camp Pendleton's 2nd platoon of Kilo Company attached to the 3rd Battalion, 5th Marine Regiment.
Jodka attended elementary and middle school at St. James Academy, a Catholic school in Solana Beach. He graduated from San Dieguito Academy high school in 2004 and spent an academic quarter at UC Riverside before deciding to enlist as a Marine.
In May 2005, Jodka shipped off to boot camp, and in January was sent to Iraq. He was there when he turned 20 in April ---- less than four weeks before Awad's death.
The military opened an investigation into the incident about a week after it occurred. By mid-May, the eight accused squad mates were under house arrest in Iraq.
The men were flown back to Camp Pendleton two weeks later and placed in the brig there on May 24. Two weeks ago, Jodka and Bacos were moved to the brig at Miramar Marine Corps Air Station.
A second guilty plea could have a dramatic effect on the other cases, according to Georgetown University law professor and attorney Gary Solis.
"I hesitate to say it will spur more guilty pleas," Solis said, "but if I were one of the defense counsel I would be foolish if I didn't say to my client 'Why don't we look into the possibility of a plea deal? If we can get something like this, would you be interested?'"
A retired Marine who spent more than two decades as a military lawyer and judge, Solis said potential jurors in any trials for the remaining defendants were more than likely to be aware of the deals that prosecutors reached with Bacos and Jodka.
"Theoretically, it's supposed to have no effect because each case is tried individually. But practically speaking, it would be hard to ignore and difficult for a juror not to realize these other cases are going at a lower price."
He added that a second plea deal is not all that surprising given the apparent strength of the government's case based on statements each manmade to Naval Criminal Investigative Service agents in Iraq when confronted shortly after Awad's death.
"The government seemingly has such strong evidence, so for someone to flip and make a deal to testify for the prosecution is not exactly shocking," Solis said.
Diann Shumate, mother of co-defendant Lance Cpl. Jerry Shumate Jr., seemed discouraged when told of the news when reached at her home in western Washington state.
"They are really putting the pressure on these guys," she said, declining further comment.
Her son lost a bid for release from the brig last week and has reserved his right to enter a plea against the charges he faces.
Despite the guilty plea by Bacos and now the apparent Jodka deal, supporters of the men who have conducted rallies in front of the Camp Pendleton gate each Saturday since the summer are expected there again today, albeit in far smaller numbers.
A rally organizer, Christine Bruce, said this week that the demonstrators numbered about a dozen last Saturday compared with more than 100 when they first began months ago.
"People are sort of feeling now like there's just a lot that we don't know and we will just watch and see what happens," Bruce said.
Participants were disappointed when word of the Bacos deal came, she added.
"But we don't know his full story and his reasons for doing what he did," she said in reference to the corpsman.
Contact staff writer Teri Figueroa at (760) 631-6624 or tfigueroa@nctimes.com. Contact staff writer Mark Walker at (760) 740-3529 or mlwalker@nctimes.com.
Fast Facts
The following is the status of seven Marines and Navy corpsman charged
with killing a 52-year-old Iraqi man in the village of Hamdania on April 26. Each remain in custody in the brig at either Camp Pendleton or Miramar Marine Corps Air Station.
Petty Officer Melson Bacos, 21, Franklin, Wis.:
Pleaded guilty Oct. 6 to kidnapping and conspiracy to kidnap and making false official statements. In exchange, Bacos was given a 12-month jail sentence ---- with 142 days credit for time served ---- and an agreement that he testify for the government.
Sgt. Lawrence Hutchins III, 22, Plymouth, Mass.:
Article 32 investigative hearing conducted Monday. Awaiting hearing officer's recommendation to Lt. Gen. James Mattis as to whether he should be ordered to trial.
Lance Cpl. Tyler Jackson, 23, Tracy:
Waived Article 32 hearing and has been ordered to trial.
Pfc. John Jodka III, 20, Encinitas:
Set to appear at a court-martial Thursday to plead guilty to assault and obstruction of justice, his attorneys said Friday.
Cpl. Marshall Magincalda, 23, Manteca:
Ordered to trial by Lt. Gen. Mattis. Pleaded not guilty during arraignment proceeding last month. Trial is set for Feb. 1.
Lance Cpl. Robert Pennington, 22, Mukilteo, Wash.:
Waived Article 32 hearing and has been ordered to trial.
Lance Cpl. Jerry Shumate Jr., 21, Matlock, Wash.:
Ordered to trial by Lt. Gen. Mattis. Reserved the right to enter plea to charges at a later date during arraignment Friday. Trial is set for Feb. 12.
Cpl. Trent D. Thomas, 24, St. Louis, Mo.:
Waived Article 32 hearing and has been ordered to trial.
http://www.nctimes.com/articles/2006/10/21/news/top_stories/2_00_0610_20_06.txt
Medic pleads guilty, details killing of Iraqi
October 07, 2006 CAMP PENDLETON ---- The medic said they hatched the murder plan in an Iraqi palm grove as the sun set on a spring evening.
They were a squad on patrol in the village of Hamdania, Petty Officer 3rd Class Melson Bacos testified Friday, when they agreed to the plot: Seize a man widely believed to be an insurgent. Kill him. Stage the scene to cover it up. Lie about it when other Marines come around to investigate.
And if their target eluded them, the young Navy corpsman said, they would just grab someone else, anyone else. But the plan would remain the same: kidnap and kill an Iraqi.
Bacos' story detailing the events of the evening of April 25 and early morning hours of April 26 in Hamdania played out in a Camp Pendleton courtroom Friday. It was the first public account of an incident that led to murder, kidnapping and conspiracy charges against a platoon of seven Marines and the Navy corpsman assigned to take care of their emergency medical needs.
When the men couldn't find their intended target, Bacos told the court, they grabbed another man from another home in the middle of the night.
There came a moment after the kidnapping and before the slaying, the medic said, when "I knew what we were doing was wrong."
It was then, he said, that he asked a squad mate to free the bound man ---- but the Marine would not do it.
"I tried to say something, sir," Bacos told a military judge, "and I decided to look away."
For pleading guilty to conspiracy and kidnapping during his daylong court-martial Friday, and for agreeing to testify against his Camp Pendleton squad mates, Bacos will serve one year in jail, with credit for 142 days already served. He will not be discharged from the service.
Military Judge Col. Steven Folsom actually sentenced Bacos to 10 years and a dishonorable discharge, but the pretrial plea deal Bacos had in hand ---- which has already been approved by Camp Pendleton's commander, Lt. Gen. James N. Mattis ---- precluded Folsom from handing down anything longer than 12 months.
In light of that, Folsom suspended the remainder of the 10-year sentence, provided that Bacos holds up his end of the deal.
'The only honorable thing'
The Navy corpsman is one of eight local service members accused in the slaying of Hashim Ibrahim Awad, who was not the targeted insurgent the squad was looking for that night. Instead, they grabbed Awad, a 52-year-old retired Iraqi police officer with a lame foot.
Nearly two months after Awad's death, the military charged the eight servicemen with murder, kidnapping and related offenses.
Before he learned his fate from the judge, Bacos read from a prepared statement, explaining why he decided to plead guilty and tell what he knew.
"I sincerely believe this is the only honorable thing to do, that to tell the truth is the only honorable thing to do," Bacos said. "I accept responsibility for my actions."
Bacos also apologized to the family of the slain Awad.
"I wanted to be part of the team, but there is no excuse for immorality," Bacos said. "I feel as if my honor is gone and I have let down others who have looked up to me. I apologize to my country, to the U.S. Navy and the U.S. Marine Corps."
One of Bacos' prosecutors, Capt. Nicholas Gannon, argued for a sentence of up to 15 years and a dishonorable discharge, calling the crime "the worst kind of kidnapping there is, because the victim is never coming back."
Gannon told the judge that Bacos' remorse was "too little, too late."
"There was ample opportunity for Petty Officer Bacos to have this crisis of conscience," Gannon said, listing a number of chances Bacos had to stop his squad mates that night, including the time in which the men allegedly dragged the limping Awad from his home to the killing scene, some 1,000 yards away.
Bacos struck the deal with prosecutors earlier this week when he agreed to testify against the seven co-defendants.
The medic is the only one of the accused men ---- all of whom are members of 2nd Platoon, Kilo Company, with the 3rd Battalion, 5th Marine Regiment ---- to plead guilty to the charges.
News of his plea deal was first reported by the North County Times on its Web site Tuesday night.
The ambush mission

Bacos' story was dramatic, if his presentation was not. The soft-spoken Navy medic, in a solemn monotone, was barely audible as he gave his account.
He laid much of the blame on the squad leader, Marine Sgt. Lawrence Hutchins III.
Bacos said the squad was out on an ambush mission that evening when they staked out a position in a grove of palm trees.
Senior members of the squad huddled in the grove, he said, plotting the murder. The man who outlined the plan, Bacos said, was Hutchins.
He said Hutchins told the entire group that four of them would then go to a home, any home, seize a shovel and assault rifle, and stash it all in a safe spot so they could came back for it later.
They would then head to the home of Saleh Gowad ---- a man Bacos said was a known insurgent who had been detained and released three times prior ---- and seize him.
They would kill Gowad and stage the scene to make it look like the squad happened upon him while he was digging a bomb, with an AK-47 assault rifle at the ready.
And if they couldn't find Gowad, they would go to another house and grab someone else. The rest of the plan would stay the same.
There in the palm grove, Bacos said, the eight men all agreed. "We all said, 'I'm in,' " Bacos testified, adding he "didn't believe they would carry out a plan like that, so I brushed it off.
"When we moved in a second position under the tree, that's when it was set in stone."
And after the killing, the corpsman and the Marines agreed, should anybody ask what had happened, they would tell the same tale, Bacos said.
At 1:30 a.m. April 26, they put the plan in motion.
Bacos said he and three Marines, radio operator Lance Cpl. Robert Pennington and Cpls. Trent Thomas and Marshall Magincalda Jr., headed out.
They stopped at a house. Bacos said he snatched a shovel from outside the home; Magincalda and Thomas disappeared into the house, and returned with an AK-47 they had seized from the residents.
They made their way, he said, to Gowad's home.
"As we were getting ready to go inside, one of the family members woke up and saw us," Bacos said, adding that they told the person to "go back to sleep."
Then, he said, Cpl. Thomas "pointed at a house next door."
It was Awad's house.
Bacos said that he and Pennington stayed outside while Magincalda and Thomas went in. When they came out, they brought with them "an old male."
They bound his hands with plastic cuffs, the medic said, and walked toward a roadside dirt hole that would become the killing scene ---- but not before they retrieved the stashed gun and shovel. Bacos said he was the one who carried the stolen gun.
They finally reached the spot. One of them dug a hole. One of them bound Awad's feet. One of them gagged his mouth. They left him in the hole they had dug, a spot designed to look as if it were being carved out to hold a roadside bomb.
Bacos said he finally asked his buddies to stop.
"While they were finishing up ... I went up to the road and asked them if we should do this," Bacos said, adding that he backed off any protest after Magincalda called him a name.
"I felt they were gonna do what they were gonna do. l felt I could do nothing else," Bacos said, "so I continued on with the plan."
Bacos said he took the AK-47 and went back to a tree to join the other four men, including the squad leader.
"Sgt. Hutchins ordered them to get on line and point their weapons at the IED hole," Bacos said in reference to the military's shorthand for a roadside bomb. "The first shot was fired by Sgt. Hutchins."
Bacos said Hutchins then called the command operations center to request permission to shoot and "made it sound like we were in a firefight with this man."
The squad, he said, was "seven or nine meters" from the hole that was dug to make it appear Awad was planting a bomb.
Afterward, Bacos said, Magincalda told him to throw the AK-47 casings around Awad's body to make it appear the Iraqi had fired first with that weapon.
"That's where I witnessed Sgt. Hutchins fire three rounds into the man's head and Thomas fired seven to 10 rounds in the man's chest," he said.
When the shooting stopped, Bacos said, he was "shocked, sick to my stomach, my adrenaline was pumping."
After they reported having killed an insurgent, the Marines dispatched a "quick reaction" squad to investigate.
With that squad was another Navy medic, who Bacos said asked him what had happened. That was his chance to distance himself from the Marines.
"I said, 'I want you to remember something,' " Bacos said he told his fellow medic. "'We're different, we're not like these men.' "
Less than a week later, suspicions would be raised when Awad's family came forward.
Authorities responded quickly, assigning several agents to investigate the case and restricting the men to their base, Camp Fallujah. A short time later, they were ordered to return to the U.S. and were placed in the Camp Pendleton brig on May 24.
During their first month of confinement, the men were shackled when they left their single-man cells. That raised the ire of their attorneys, family members and supporters, and that restriction was subsequently lifted.
'Ready to move on'

Before Bacos was sentenced, prosecutors showed photographs of Awad's bloodied body and a 19-minute videotaped interview with the slain man's brother, an Arabic speaker whose words were translated into English by an interpreter.
"Just imagine if you lost one very close to your heart," said the 54-year-old man, whose name was not immediately available. "I swear if he did a bad thing, I wouldn't be sad today."
He said his brother, who had 11 children, had nothing against U.S. forces and had never participated in any action against coalition troops.
Bacos sat with his chin resting in his hands most of the time that the video was being played, occasionally looking down or away from the small screen set up at the defense table.
During the defense presentation, Bacos described his upbringing as the son of Filipino immigrants and said he signed up for a five-year Navy enlistment in August 2003, shortly after graduating from high school.
Following his training, Bacos was assigned to Camp Pendleton in early 2004, and in November of that year, he was in Fallujah for one of the major battles of the war.
When the court session ended, Bacos marched with his attorneys to a spot outside a media center established at Camp Pendleton to accommodate coverage of the Hamdania case.
The slight-framed Bacos, dressed in a crisp summer white Navy dress uniform, said that he wanted to thank supporters, wants to get this behind him and maybe go to medical school one day.
"I'm just ready to move on from this chapter in my life," he said.
His hired attorney, Jeremiah Sullivan, said the plea deal was a just resolution for his client that will allow him to "have a bright future."
More to come

Before that kind of future begins, however, he must serve his time and testify in the up to seven cases still pending should each go to trial.
On Tuesday, Bacos was moved from the brig at Camp Pendleton to Miramar to separate him from the other accused servicemen. Pfc. John Jodka III also has been moved to Miramar, where his father, John Jodka Jr., said he is being held in facilities that are "better suited for him."
The elder Jodka also said his son continues to maintain he is innocent of any wrongdoing despite being implicated by Bacos. He would not say if a plea deal is in the works.
"He is profoundly affected by what Corpsman Bacos has done, but he is an innocent Marine and he is not guilty of the charges brought against him," the father said.
Leanne Magincalda, the mother of Cpl. Magincalda, said she talked to her son Friday afternoon.
"He hurt really bad when he heard about Bacos," she said. "The hurt is what came through when I talked to him because he knows that what he (her son) did was not wrong. Despite what Bacos said, the truth is going to prevail."
Pretrial hearings for four of the defendants are scheduled to take place the week of Oct. 15. On Tuesday, Magincalda and Jodka pleaded not guilty when they were formally arraigned on murder, kidnapping and related offenses.
Contact staff writer Teri Figueroa at (760) 631-6624 or tfigueroa@nctimes.com. Contact staff writer Mark Walker at (760) 740-3529 or mlwaker@nctimes.com.
Guilty pleas latest chapter in long line of events

CAMP PENDLETON ---- Guilty pleas submitted by a Navy Corpsman on Friday came after nearly six months of investigation into the alleged murder of an Iraqi civilian by Camp Pendleton troops. Petty Officer 3rd Class Melson Bacos testified in a military court Friday that the incident began on the evening of April 25, when his squad put together a plan to kidnap and kill an Iraqi. Since then, eight men have been charged with murder in the incident. Until Friday, the men stuck together with a story that they had done nothing wrong. Bacos' plea, while the latest chapter in the story, promises not to be the last.
The following is a time line of events in the case:

- April 26 ---- Alleged murder of Hashim Ibrahim Awad.Alleged incident took place in Hamdania, Iraq.
- May 1---- Preliminary investigation begins as officials learn of the alleged killing.
- May 7 ---- The Naval Criminal Investigative Service, the Navy's investigative branch begins a criminal investigation.
- May 12---- Eleven Marines and Bacos are removed from their unit and ordered back to Camp Pendleton, where they arrive May 24.
- May 25 ---- Seven Marines and Bacos are placed in pre-trial confinement at the Camp Pendleton brig.The additional four Marines are placed on base restriction.
- June 21---- Seven Marines and Bacos are charged with murder in connection with Awad's death.
- Aug. 30 ---- Pretrial hearings, known in the military as Article 32 hearings, begin for some of the men charged in the alleged killing.
- Sept. 25 ---- Officials order military trials, or courts martial, for Private First Class John J. Jodka, Cpl. Marshall L. Magincalda and Lance Cpl. Jerry E. Shumate.
- Oct. 4---- Jodka and Magincalda plead not guilty to the charges against them.
- Oct. 6 ---- Bacos, a Navy corpsman with the squad, pleads guilty to kidnapping and conspiracy. Murder charges are dropped. He is sentenced to a year in military confinement in exchange for testifying against seven others charged in the incident. In accordance with the plea deal, he is not discharged.
http://www.nctimes.com/articles/2006/10/07/news/top_stories/1_29_9910_5_06.txt
http://www.nctimes.com/special_reports/hamdania/
Six Marines charged with assault
The Marine Corps has filed charges against six Marines for an alleged April 10 assault on an unnamed Iraqi man in the village of Hamdania, officials announced Thursday.
Three of the charged are already in the base brig awaiting court action on charges they kidnapped and killed another Iraqi civilian on April 26.
The early evening announcement from Camp Pendleton identified the suspects in the April 10 incident as Lance Cpls. Saul H. Lopezromo and Henry D. Lever and Pfc. Derek I. Lewis. Also charged are Sgt. Lawrence G. Hutchins III, Cpl. Trent D. Thomas and Lance Cpl. Jerry E. Shumate Jr., who along with four other Marines and a Navy corpsman stand accused of premeditated murder in the April 26 death of Hashim Ibrahim Awad.
Lt. Col. Sean Gibson, a Marine Corps spokesman at Camp Pendleton, said more specific details about the alleged April 10 assault would not be available until this morning.
Victor Kelley, a civilian attorney hired by the Thomas family to defend him on the murder charge, termed the latest allegation "bull...." and said his client is innocent.
"It didn't happen," Kelley said in a telephone interview from his home in Birmingham, Ala. "Cpl. Thomas had nothing to do with that, and it is not going to be proven."
Salahuddin province, Soldiers say orders were to kill all military-age Iraqis
Four U.S. soldiers accused of murdering suspected insurgents during a raid in Iraq said they were under orders to "kill all military-age males," according to sworn statements obtained by The Associated Press.
The soldiers took some of the men into custody because they were using two women and a toddler as human shields. They shot three of the men after the women and child were safe and say the men attacked them.
"The ROE (rule of engagement) was to kill all military age males on Objective Murray," Staff Sgt. Raymond Girouard told investigators, referring to the target by its code name. That target, an island on a canal in the northern Salahuddin province, was believed to be an al-Qaida training camp.
Girouard, Spc. William Hunsaker, Pfc. Corey Clagett and Spc. Juston Graber are charged with murder and other offenses in the shooting deaths of three of the men during the May 9 raid.
http://seattlepi.nwsource.com/national/278480_soldiers22.html
Mahmudiya, south of Baghdad, US soldiers charged in rape case
Four US soldiers have been charged with rape and murder over an attack on an Iraqi woman who was killed along with her family last March. The soldiers, on active duty in Iraq, are accused of conspiring with former soldier Steven Green to commit the crimes in Mahmudiya, south of Baghdad. Mr Green, who is being held in the US, denies the rape and murder charges. A fifth soldier serving in Iraq has been charged with dereliction of duty for failing to report the offences.
110-year sentence in Iraq rape-killing
This is an undated photo released by the U.S. Army of Pfc. Jesse V. Spielman. A military jury began deliberating on Friday, Aug. 3, 2007, whether an Army soldier took part in the rape and murder of a 14-year-old Iraqi girl. Pfc. Jesse Spielman, 22, of Chambersburg, Pa., is charged with rape and murder in the March 12, 2006, slaying of the girl and the killings of her family. The attack took place in Mahmoudiya, a village about 20 miles south of Baghdad. (AP Photo/U.S. Army)
FORT CAMPBELL, Ky. -- A soldier convicted of rape and murder in an attack on an Iraqi teenager and her family was sentenced Saturday to 110 years in prison, with the possibility of parole after 10 years.
The sentence was part of a plea agreement attorneys for Pfc. Jesse Spielman had made with prosecutors that set the number of years he could serve in prison, regardless of the jury's recommendation.
The jury had recommended life with parole, a sentence under which he would have to wait longer for the possibility of freedom.
Spielman was convicted late Friday of rape, conspiracy to commit rape, housebreaking with intent to rape and four counts of felony murder.
Military prosecutors did not say Spielman took part in the rape or murders but alleged that he went to the house knowing what the others intended to do and served as a lookout.
In closing arguments, the military prosecutor, Maj. William Fischbach, said Spielman played a "bit part" but stressed he shared responsibility.
Spielman took the stand to petition jurors for leniency before he was sentenced.
"I don't really blame my chain of command. I don't really blame anybody," he said quietly. "I could have stopped it. I take responsibility for my actions."
Spielman, 23, of Chambersburg, Pa., received the longest sentence of four soldiers who have been convicted. Three other soldiers pleaded guilty under agreements with prosecutors for their roles in the assault and were given sentences ranging from five to 100 years.
Spielman's grandmother, Nancy Hess, collapsed outside the courtroom after the verdict was read; Fischbach ran to her side and called 911. Soldiers in Spielman's unit fanned the woman with napkins.
Spielman's sister, Paige Gerlach, screamed: "I hate the government. You people put him (in Iraq) and now, this happened."
Defense attorneys declined to comment after the sentencing hearing.
Spielman had pleaded guilty on Monday to lesser charges of conspiracy to obstructing justice, arson, wrongfully touching a corpse and drinking. The 110-year sentence encompasses those crimes, too.
The case stemmed from the March 12, 2006, rape and slaying of Abeer Qassim al-Janabi, 14, and the killings of her parents and sister. The attack took place in Mahmoudiya, about 20 miles south of Baghdad.
Prosecutors rested their case Thursday amid struggles to overcome a fellow soldier's recanting of a story that Spielman acted as a lookout.
Spc. James Barker said in earlier testimony that he had allowed investigators to draft sworn statements for him that implicated Spielman.
Barker testified Wednesday that several portions of the document were untrue, including references to Spielman's role in the conspiracy to attack the family and his knowledge of plans to rape the girl.
But Sgt. Paul E. Cortez testified that Spielman stood guard. Cortez said Spielman was within a few feet of the others as they held down the screaming girl and did nothing to stop them.
Barker, Cortez and another soldier, Pfc. Bryan L. Howard, pleaded guilty for their roles.
Steven D. Green, who was discharged from the Army before being charged, faces a possible death sentence when he is tried in federal court in Kentucky. He has pleaded not guilty to charges that include murder and sexual assault.
Barker and Cortez gave investigators conflicting statements about whether Spielman knew of the plan to rape the girl and whether he was present when they discussed it over whiskey and gin, according to testimony.
During their courts-martial, Barker and Cortez testified they took turns raping the girl while Green shot and killed her mother, father and younger sister. Green shot the girl in the head after raping her, they said.
The girl's body was set on fire with kerosene to destroy the evidence, according to previous testimony.
http://seattlepi.nwsource.com/national/1110AP_Army_Rape_Slaying.html?source=mypi
US soldier admits murdering girl
The house in Mahmudiya where the rape and killings took place
A second US soldier's plea of guilty to the gang rape of a 14-year-old Iraqi girl and the killing of her and her family has been accepted by a judge.
Sgt Paul Cortez admitted four murders, rape and conspiracy to rape. His plea means he will avoid the death penalty.
In November, Spc James Barker, 24, admitted rape and murder over the same killings and was jailed for 90 years.
Cortez broke down as he confessed to raping the girl as her parents and sister were shot dead in another room.
The case is one of several in which US troops are accused of killing Iraqis.
According to the plea agreement, Cortez admitted conspiring with three other soldiers, Pfc Jesse Spielman, Spc Barker and Steven Green, a now discharged soldier, to rape Abeer Qassim al-Janabi.
Card game
Pfc Spielman and another man, Bryan Howard, are awaiting court martial on charges related to the attack.
Mr Green is being tried as a civilian because he was discharged from the Army before his superiors knew of his suspected involvement. He denies the charges against him.
All five belonged to the 101st Airborne Division based at Fort Campbell, Kentucky, which is also where the hearing took place.
In court, Cortez admitted the plan was hatched as they played cards and that the girl had been targeted because there was only one male in her house, making it an easy target.
Family murdered
He said: "During the time me and Barker were raping Abeer, I heard five or six gunshots that came from the bedroom.
"After Barker was done, Green came out of the bedroom and said that he had killed them all, that all of them were dead."
Cortez added: "Green then placed himself between Abeer's legs to rape her. When Green was finished, he stood up and shot Abeer in the head two or three times."
The entire crime took about five minutes and the girl knew her parents and sister had been shot while she was being raped, the hearing heard.
http://news.bbc.co.uk/2/hi/americas/6384781.stm
Spc. Pleads Guilty in Iraq Rape, Murder
One of four U.S. soldiers accused of raping an Iraqi girl last spring and killing her and her family pleaded guilty Wednesday and will testify against the others.
Spc. James P. Barker agreed to the plea deal to avoid the death penalty, said his civilian attorney, David Sheldon.
The killings in Mahmoudiya, a village about 20 miles south of Baghdad, were among the worst in a series of alleged attacks on civilians and other abuses by military personnel in Iraq.
Sgt. Paul E. Cortez and Pfc. Jesse V. Spielman, both members of the 101st Airborne Division with Barker, could face the death penalty if convicted in the case in courts-martial at Fort Campbell.
The alleged ringleader, former Army private Steve Green, 21, pleaded not guilty last week to charges including murder and sexual assault.
Green was discharged from the Army for a "personality disorder" before the allegations became known, and prosecutors have yet to say if they will pursue the death penalty against him.
The indictment accuses Green and others of raping the girl and burning her body to conceal their crimes. It also alleges that Green and four others stationed at a nearby checkpoint killed the girl's father, mother and 6-year-old sister.
Barker has already given investigators vivid accounts of the assault.
http://sfgate.com/cgi-bin/article.cgi?file=/n/a/2006/11/15/national/a084807S89.DTL
Iraq rape-slaying hearing begins
A preliminary hearing began Sunday for four U.S. soldiers charged in connection with the rape and slaying of an Iraqi female and the killings of her family earlier this year in Mahmoudiya, Iraq.
Three witnesses took the stand on the first day of the Article 32 hearing at Camp Victory near Baghdad, including an Iraqi army medic who gave graphic testimony about the state of the bodies.
Sgt. Paul E. Cortez, Spec. James P. Barker, Pfc. Jesse V. Spielman, and Pfc. Bryan L. Howard were all charged with conspiring with former Pfc. Steven D. Green to commit the crimes, the military said.
The four could face the death penalty, the military has said.
A fifth soldier, Sgt. Anthony W. Yribe, was charged with failing to report the rape and killings but is not alleged to have been a direct participant. He is not facing an Article 32 hearing at this time.
Green, who was discharged from the Army in May due an "anti-social personality disorder," faces rape and murder charges in federal court. He is being held in a Kentucky jail, where last month he was granted a three-month delay in his arraignment. He has pleaded not guilty.
All six are from the 502nd Parachute Infantry Regiment of the 101st Airborne Division (Air Assault) out of Fort Campbell, Ky.
The incident took place in March in Mahmoudiya, just south of Baghdad. A Justice Department affidavit filed in Green's case says Green and other soldiers planned the rape.
The affidavit says Green shot and killed the woman's relatives, including a girl of about 5 years of age; raped the woman; then fatally shot her. It says the incident took place "on or about March 12, 2006."
http://www.cnn.com/2006/WORLD/meast/08/06/iraq.main/index.html
Friends of former soldier charged in Iraq deaths recall unpredictable behavior
Medic testifies at U.S. troops' hearing
Investigator: Troops drank, golfed before Iraqi killings, rape
Torture and Prisoner Abuse
CACI: Torture in Iraq, Intimidation at Home
Dogged by serious allegations of human rights abuses in Iraq, a leading profiteer from the Iraq war engages in intimidation campaigns against journalists in America who seek to expose its practices.
Consider the unique problems faced by the corporate suits at CACI International, a defense contractor whose services have included "coercive" interrogations of prisoners in Iraq -- interrogations most people simply call "torture."
Think about the image problems a major multinational corporation faces after becoming inextricably linked with the abuses at Abu Ghraib, a firm whose employees have contributed to the iconic images of the occupation of Iraq -- the symbols of American cruelty and immorality in an illegal war. What can a company like that possibly do to protect its brand name after contributing to the greatest national disgrace since the My Lai massacre?
CACI's strategy has been two-fold: its flacks have distorted well-documented facts in the public record beyond recognition, and its senior management has lawyered up, suing or threatening to sue just about every journalist, muckraker and government watchdog who's dared to shine a light on the firm's unique role as a torture profiteer.
Lately, the company's sights have been set squarely on Robert Greenwald, director of Iraq for Sale: The War Profiteers, in which CACI plays a starring role. Greenwald has been in a back-and-forth with CACI's CEO, Jack London, and its lead attorney, William Koegel, during "months of calls, emails and letters" in what Greenwald calls a campaign to "intimidate, threaten and suppress" the story presented in the film.
"The threatening letters started early, trying to get us to back off," Greenwald told me. "We refused, and went back at them with a very strong letter saying, 'no, you're war profiteers and we won't be silenced.' Like any bully, they backed down when confronted. No lawsuit was filed-- they're a paper tiger."
The story they don't want told is of a federal contractor that, according to the Washington Post, gets 92 percent of its revenues in the "defense" sector. The Washington Business Journal reported that CACI's defense contracts almost doubled in the year after the occupation of Iraq began, and profits shot up 52 percent.
Yet CACI insists it isn't a war profiteer (a subjective term anyway), but was just answering an urgent call in Iraq. In a letter to Greenwald, Koegel wrote: "the army needed ... civilian contractors to work as interrogators" because the military didn't have the personnel, and CACI responded to the "urgent war-time circumstances" and "has no apologies."
But while the firm had experience in electronic surveillance and other intelligence functions, it, too, didn't have the interrogators. Barry Lando reported finding an ad on CACI's website for interrogators to send to Iraq, and noted that "experience in conducting tactical and strategic interrogations" was desired, but not necessary. According to a report by the Army inspector general, 11 of the 31 CACI interrogators in Iraq had no training in what most experts agree is one of the most sensitive areas of intelligence gathering. The 205th Military Intelligence Brigade, which was in charge of interrogations at Abu Ghraib when the abuses took place, didn't have a single trained interrogator.
"It's insanity," former CIA agent Robert Baer told The Guardian. "These are rank amateurs, and there is no legally binding law on these guys as far as I could tell. Why did they let them in the prison?"
That's one of many questions the company doesn't care to have asked. It's common for corporations to be fiercely protective of their brand's image, often obsessively so. That's true of multinationals selling soda pop or accounting services or military intelligence. But a company on a federal contract that rents out interrogators who become involved in a torture scandal that ends up splashed across the cover of Time Magazine -- that's the kind of thing that can be a real problem for the PR flacks back at corporate headquarters.
Colonel William Darley with the Military Review wrote of Abu Ghraib's impact:
We have never recovered from the Abu Ghraib thing. And it's likely all the time we're in Iraq, we never will. It will take a decade and beyond. I mean, those pictures, a hundred years from now, when the history of the Middle East is written, those things will be part and parcel of whatever textbook that Iraqis and Syrians and others are writing about the West. Those pictures. It's part of the permanent record. It's like that guy in Vietnam that got his head shot. It's just a permanent part of the history. That will never go away.
But CACI's tried hard to make it go away. The company sued Air America Radio host Randi Rhodes for $11 million for defamation, including $10 million in punitive damages. The supposed defamation? Rhodes read a portion of an interview with Janice Karpinski, the former Brigadier General who commanded the MPs at Abu Ghraib. The suit was dismissed with a summary judgment in April.
After the Institute for Policy Studies named CACI and CEO London in its annual "Executive Excess" report on CEO pay, they received "a blistering seven-page letter" from London himself, demanding that CACI be removed from the report. Later, Sarah Anderson, one of the study's co-authors said she got "a rather ominous email just saying that they were monitoring everything I wrote about them."
Then a blogger at Blogcritics got the "CACI treatment" for reporting on the Air America suit, as did the online media watchdog Newsbusters. When David Rubenstein, a columnist for the alternative paper Pulse of the Twin Cities, wrote an article about former Minnesota Congresman Vin Weber that mentioned CACI, it triggered, as Rubenstein would later recall, "a bombastic two-page single-spaced letter" from London with a "wholesale attack on my credibility." Runbenstein wrote of London's letter:
He doctors a quote from a newspaper interview. He quotes selectively from a Senate hearing. He constructs logical absurdities and lays them out as if they were pronouncements from an oracle. Apparently he thinks because he is the CEO of a $1.6-plus billion company that is willing to throw its weight around, he can say whatever he wants. It's a calculated strategy to shut down critics.
According to the New Standard, CACI has even characterized suits brought against it by human rights lawyers as slander. In a press release responding to a case brought by the Center For Constitutional rights on behalf of prisoners abused at Abu Ghraib, CACI's attorneys said the firm "rejects and denies the allegations of the suit as being a malicious recitation of false statements and intentional distortions" and called the allegations of abuse "ill-informed" and "slanderous."
After the article ran, The New Standard got a threatening letter (PDF) that quickly made its way around the internet.
CACI's problem is, ultimately, with reality. The firm claims that it was vindicated by the military's investigations into Abu Ghraib, including in a Washington Post editorial by Koegel in which he wrote that "no CACI employee has been charged with any misconduct in connection with interrogation work." It's technically true in that no CACI employee has faced formal charges -- it's unclear what jurisdiction civilian contractors in Iraq fall under, if they fall under any -- but the Taguba Report (PDF) said that CACI's Steven Stephanowicz had encouraged MPs under his command to terrorize inmates, and "clearly knew his instructions equated to physical abuse."
The irony is that by trying to spin Abu Ghraib and bully the media into ignoring the story, CACI has violated the fundamental rules of corporate crisis management. PR consultants who specialize in the field talk about the "Tylenol model" -- named for the pain-relief medication that faced a crisis in the 1980s after some of its bottles were found to contain cyanide. According to the experts, companies facing a crisis must "demonstrate concern, care and empathy" for the victims of its actions and should always "treat the media as a distribution channel, not as enemies." Rule number one is: "take responsibility."
Note: Robert Greenwald is a member of the board of the Independent Media Institute, AlterNet's parent organization.
http://www.alternet.org/waroniraq/44506/
Marine Sergeant Comes Forward to Report Abuse at Guantanamo Bay
The Pentagon says it is fully cooperating with a brand new investigation into allegations of prisoner abuse at Guantanamo Bay.
The allegations come from a Marine Corps sergeant, 23-year-old Heather Cerveny, who spent a week at the base in late September as a legal aide to a military lawyer representing detainees.
In a sworn affidavit filed with the Pentagon Inspector General, Sgt. Cerveny says she met several Navy prison guards at a club on the base where, over drinks, they described harsh physical abuse.
"One sailor specifically said, 'I took the detainee by the head and smashed his head into the cell door,'" Sgt. Cerveny tells ABC News in an exclusive interview.
She says she was "shocked" to hear several guards from different parts of the camp speak openly of mistreating prisoners.
"Everyone in the group laughed at all their stories of beating detainees," she recalled. "None of them looked like they cared. None of them looked shocked by it."
One of the guards "was telling his buddy, 'Yeah, this one detainee, you know, really pissed me off, irritated me. So I just, you know, punched him in the face.'"
Sgt. Cerveny says the guards also talked about taking away detainees' privileges "even when they're being good" and denying their requests for water. In her affidavit, she states she was told "they do this to anger the detainees so they can punish them when they object or complain."
When asked why, she claims a guard named Steven told her it's "because he hates the detainees and that they are bad people. He stated that he doesn't like having to take care of them or be nice to them," she says in the affidavit.
Sgt. Cerveny says the guards told her they worked at Camps 5 and 6. When she asked one of the guards about the consequences of their actions, "He said nothing. Everyone in the group was laughing."
They stopped laughing when they found out she worked for a marine defense lawyer.
http://blogs.abcnews.com/theblotter/2006/10/exclusive_full_.html
Abu Ghraib torture and prisoner abuse
http://en.wikipedia.org/wiki/Abu_Ghraib_torture_and_prisoner_abuse
Lt. Col. faces court-martial in Abu Ghraib scandal
By David Dishneau - The Associated Press
Posted : Saturday Jan 27, 2007 10:14:44 EST
HAGERSTOWN, Md. — The only U.S. military officer charged with a crime in the Abu Ghraib scandal will be court-martialed on eight charges, including cruelty and maltreatment of prisoners, the Army said.
Lt. Col. Steven Lee Jordan, a 50-year-old reservist from Virginia who ran the interrogation center at the Iraqi prison, was accused of failing to exert his authority as the place descended into chaos, with prisoners stripped naked, photographed in humiliating poses and intimidated by snarling dogs. He was also charged with lying to investigators.
He has not been accused of personally torturing or humiliating prisoners, and was not pictured in any of the photos that embarrassed the Pentagon and shocked the Muslim world.
Maj. Gen. Guy C. Swann, commander of the Military District of Washington, decided Jordan must stand trial, Army spokesman Col. Jim Yonts told The Associated Press on Friday.
Jordan was charged in April with 12 offenses. Swann dismissed four of them after Jordan was given an Article 32 hearing, the military equivalent of a civilian preliminary hearing, in October. Most of the dropped charges stemmed from allegations that Jordan had falsified vehicle repair records.
Besides cruelty and maltreatment, the charges include disobeying a superior officer, willful dereliction of duty and making false statements. The remaining charges carry a total maximum prison term of 22 years.
Jordan's military lawyers did not immediately return calls for comment.
The move is "certainly a very welcome development on the road toward accountability for what happened at Abu Ghraib," said Hina Shamsi, deputy director of the law and security program at Human Rights First, a New York-based civil rights advocacy group.
"We're actually starting to hold more senior-level officers accountable for what were clearly systemic failures to ensure that lawful interrogation techniques were used and to ensure that subordinates were acting in accordance with established doctrine and laws," she said.
At his October hearing, Jordan said he had no operational control over interrogations and spent much of his time trying to improve soldiers' deplorable living conditions.
The government alleges Jordan's actions or inaction subjected detainees to forced nudity and intimidation by dogs. He also is accused of lying to investigators in denying that he saw any abuse.
Jordan's "tacit approval" of violence by military police during an episode in November 2003 "can be pointed to as the causative factor that set the stage for the abuses that followed for days afterward," concluded Maj. Gen. George R. Fay and Lt. Gen. Anthony R. Jones, who investigated the scandal.
Eleven other U.S. soldiers — all from the enlisted ranks — have been convicted in the Abu Ghraib prison scandal, with former Cpl. Charles A. Graner Jr. receiving the harshest sentence, a 10-year prison term.
A general and other officers have received reprimands or demotions that ended or blighted their careers.
Since he was charged in April, Jordan has been on active duty with the Intelligence and Security Command at Fort Belvoir, Virginia.
http://www.airforcetimes.com/news/2007/01/apAbuGhraib070126/
Shays: Abu Ghraib abuses were sex ring
October 13, 2006 HARTFORD, Conn. - Republican Rep. Christopher Shays (bio), who is in a tough re-election fight, said Friday the Abu Ghraib prison abuses were more about pornography than torture.
The veteran Connecticut congressman said a National Guard unit was primarily responsible for the abuses although it was actually the 372nd Military Police Company from Cresaptown, Md., an Army Reserve unit.
"It was a National Guard unit run amok," Shays said in a telephone interview with The Associated Press. "It was torture because sex abuse is torture. It was gross and despicable ... This is more about pornography than torture."
Shays sought to defuse controversy over his previous comments suggesting the Abu Ghraib abuses weren't torture but instead involved a sex ring of troops.
"Now I've seen what happened in Abu Ghraib, and Abu Ghraib was not torture," Shays said at a debate Wednesday.
"It was outrageous, outrageous involvement of National Guard troops from (Maryland) who were involved in a sex ring and they took pictures of soldiers who were naked," added Shays. "And they did other things that were just outrageous. But it wasn't torture."
The lawmaker's comments were in a transcript of the debate provided by his opponent, Diane Farrell. Shays' campaign, contacted Friday, did not dispute the comments.
Abu Ghraib is the Baghdad prison where abuse of prisoners by U.S. soldiers led to an international scandal. Iraqi detainees at Abu Ghraib were brutalized and sexually humiliated by military police and intelligence agents in the fall of 2003. At least 11 U.S. soldiers have been convicted in the scandal.
Elected in 1987, Shays has distinguished himself as a moderate Republican who often breaks with his party, especially on his signature issue of campaign finance reform. But in the last week, his comments have echoed conservative talk radio.
Shays defended House Speaker Dennis Hastert's handling of a congressional page scandal, saying no one died like at Chappaquiddick in 1969 when Democratic Sen. Edward Kennedy (news, bio, voting record) was involved.
"I know the speaker didn't go over a bridge and leave a young person in the water, and then have a press conference the next day," the embattled Connecticut congressman told The Hartford Courant in remarks published Wednesday.
"Dennis Hastert didn't kill anybody," he added
Shays is waging a bruising re-election fight against Farrell.
"Once again, Chris is trying to back away from an earlier statement because it's politically expedient," Farrell said Friday. "It's typical Chris."
Democratic Sen. Christopher Dodd, who appeared at a news conference with Farrell on Friday, said people are going to jail because of torture at Abu Ghraib.
"It's not because it was some pornography ring. I'm surprised anyone would make that suggestion," Dodd said. "The suggestion that somehow this was something less than that is, again, almost bordering on the bizarre."
During the campaign stop, Dodd criticized a direct-mail flier from the National Republican Congressional Committee titled, "Diane Farrell: Coffee Talk with the Taliban," that had been sent to voters in the southwestern Connecticut district.
"This is absolutely the worst kind of politics in America," Dodd said. "The people who associate themselves with that party and these things must be held accountable."
Farrell has received money and an endorsement from the Council for a Livable World, a 44-year-old Washington, D.C., organization that works to reduce nuclear weapons. In the mailer, Republicans said the Council has a "leader who wanted someone to sit down and talk with the Taliban instead of just forcibly removing them from power."
In a statement Friday, Shays said the NRCC had crossed the line with the mailing and called on the Republican organization to "put an end to sending this type of garbage."
On its Web site, the council calls the NRCC claim bogus and says board member Roger Fisher, an expert on conflict resolution who teaches at Harvard University, "recommended combining carrots and sticks to persuade the government of Afghanistan to turn over Osama bin Laden."
Recently, Senate Republican Leader Bill Frist said during a trip to Afghanistan that the Afghan war against Taliban guerrillas can never be won militarily and he favored bringing "people who call themselves Taliban" into the government.
http://news.yahoo.com/s/ap/20061013/ap_on_el_ho/connecticut_shays
http://www.youtube.com/watch?v=E5I1rGFCVOs
Colonel's leadership at Abu Ghraib questioned
Ex-intelligence officer testifies he was concerned about prison conditions
October 17, 2006 The former top military intelligence officer at Abu Ghraib said he began doubting his deputy's leadership ability shortly after the deputy, who is now charged with abusing detainees, arrived on the job.
Col. Thomas Pappas testified at Fort Meade today that he became concerned about the job performance of Lt. Col. Steven L. Jordan and about conditions inside the prison after the International Committee of the Red Cross visited in October 2003, about a month after Jordan's assignment there. Pappas said Jordan did not immediately tell him that the Red Cross had objected to naked detainees inside Abu Ghraib.
Pappas also testified that Jordan had not immediately informed him of a Nov. 24, 2003, incident in which a detainee was shot and wounded by military police during a struggle after guards found a handgun in the prisoner's cell.
Pappas testified by telephone from Fort Knox today at Jordan's Article 32 hearing, the military equivalent of a grand jury proceeding. The hearing is to determine whether Jordan, the highest-ranking officer charged in the scandal, should be court-martialed for any of the 12 charges he faces. He faces a maximum of 42 years in prison if convicted of all counts.
On Monday, the court heard from Maj. Gen. George Fay, who wrote a report on detainee maltreatment at the prison in Iraq. Fay said Jordan lied to investigators about his knowledge of detainee abuse.
Fay said his investigation found that Jordan, a military intelligence reservist, was in charge of the Joint Interrogation Debriefing Center despite Jordan's insistence to Fay that his director's title meant he was just a liaison between the center and superior officers.
"I believe Lt. Col. Jordan knew about some of those abuses and did not stop some of those abuses," Fay said under direct questioning by prosecutor Lt. Col. John P. Tracy.
Fay also said that Jordan "told us a story that was deceptive and it was misleading and he tried to avoid responsibility for his role at Abu Ghraib."
For instance, Fay said that when he asked Jordan if he had seen prisoners stripped naked, Jordan told him he had, but that the nudity had nothing to do with interrogations. Jordan replied that "it all had to do with the lack of clothing at the time," Fay said in response to a question from hearing officer Col. Daniel Cummings
Jordan, 50, of Fredericksburg, Va., is the highest-ranking officer charged with abusing prisoners at Abu Ghraib in late 2003 and early 2004. Now assigned to the Intelligence and Security Command at Fort Belvoir, Va., he was director of the interrogation center from mid-September through late November 2003, when detainees were physically abused, threatened with dogs and sexually humiliated.
The Joint Interrogation Debriefing Center was created in September 2003 as part of a reorganization aimed at extracting more and better intelligence about the growing insurgency in Iraq.
Eleven lower-ranking soldiers have been convicted of crimes in the scandal. Pappas was reprimanded and fined $8,000 for once approving the use of dogs during an interrogation without higher approval. Several other officers also have been reprimanded or relieved of their command as a result of the investigation.
http://www.baltimoresun.com/news/nationworld/iraq/bal-ghraib1017,0,1794973.story?coll=bal-home-headlines
Rumsfeld okayed abuses says former U.S. general
November 25, 2006 MADRID (Reuters) - Outgoing Defense Secretary Donald Rumsfeld authorized the mistreatment of detainees at Abu Ghraib prison in Iraq, the prison's former U.S. commander said in an interview on Saturday.
Former U.S. Army Brigadier General Janis Karpinski told Spain's El Pais newspaper she had seen a letter apparently signed by Rumsfeld which allowed civilian contractors to use techniques such as sleep deprivation during interrogation.
Karpinski, who ran the prison until early 2004, said she saw a memorandum signed by Rumsfeld detailing the use of harsh interrogation methods.
"The handwritten signature was above his printed name and in the same handwriting in the margin was written: "Make sure this is accomplished"," she told Saturday's El Pais.
"The methods consisted of making prisoners stand for long periods, sleep deprivation ... playing music at full volume, having to sit in uncomfortably ... Rumsfeld authorized these specific techniques."
The Geneva Convention says prisoners of war should suffer "no physical or mental torture, nor any other form of coercion" to secure information.
"Prisoners of war who refuse to answer may not be threatened, insulted, or exposed to any unpleasant or disadvantageous treatment of any kind," the document states.
A spokesman for the Pentagon declined to comment on Karpinski's accusations, while U.S. army in Iraq could not immediately be reached for comment.
Karpinski was withdrawn from Iraq in early 2004, shortly after photographs showing American troops abusing detainees at the prison were flashed around the world. She was subsequently removed from active duty and then demoted to the rank of colonel on unrelated charges.
Karpinski insists she knew nothing about the abuse of prisoners until she saw the photos, as interrogation was carried out in a prison wing run by U.S. military intelligence.
Rumsfeld also authorized the army to break the Geneva Conventions by not registering all prisoners, Karpinski said, explaining how she raised the case of one unregistered inmate with an aide to former U.S. commander Lt. Gen. Ricardo Sanchez.
"We received a message from the Pentagon, from the Defense Secretary, ordering us to hold the prisoner without registering him. I now know this happened on various occasions."
Karpinski said last week she was ready to testify against Rumsfeld, if a suit filed by civil rights groups in Germany over Abu Ghraib led to a full investigation.
President Bush announced Rumsfeld's resignation after Democrats wrested power from the Republicans in midterm elections earlier this month, partly due to public criticism over the Iraq war.
Haditha killings
breaking
Marine is ordered to testify against leader in Iraq killings. In a surprise turn during the Haditha war-crimes case at Camp Pendleton, a Marine charged for his part in the 2005 killings of 24 Iraqi civilians has been ordered to testify against his squad leader under a grant of immunity. Lawyers for Lance Cpl. Stephen Tatum said they learned Monday that the Marine Corps was forcing immunity on their client so he would take the stand against Staff Sgt. Frank Wuterich. http://www.signonsandiego.com/news/military/20080214-9999-1m14haditha.html
Another perspective on Haditha. By: THAD COAKLEY - Commentary http://www.nctimes.com/articles/2008/02/07/perspective/17_38_252_2_08.txt
Marines ordered to trial in Haditha killings Oct 20 http://www.nctimes.com/articles/2007/10/20/news/top_stories/10_62_3510_19_07.txt
The Erosion of a Murder Case Against Marines in the Killing of 24 Iraqi Civilians http://www.nytimes.com/2007/10/06/world/middleeast/06haditha.html?_r=1&ref=world&oref=slogin
Sergeant calls killings in Haditha unavoidable http://www.signonsandiego.com/uniontrib/20070907/news_1m7haditha.html
Three Marines censured for roles in Haditha deaths http://stripes.com/article.asp?section=104&article=48578
Rules unclear on battlefield, Marine testifies http://www.signonsandiego.com/uniontrib/20070906/news_1m6wuter.html
Witness alleges Wuterich wanted to 'kill everybody' http://www.nctimes.com/articles/2007/09/01/news/top_stories/20_16_008_31_07.txt
Sergeant: Superior suggested fatal spree, 24 Iraqis shot dead after Haditha blast http://www.signonsandiego.com/uniontrib/20070901/news_1m1haditha.html
Marine Sergeant Faces Hearing on Haditha Killings http://www.npr.org/templates/story/story.php?storyId=14046257
Supporters rally for accused Marines http://www.nctimes.com/articles/2007/06/29/news/top_stories/23_18_056_28_07.txt
Accounts differ on Haditha slayings http://www.signonsandiego.com/uniontrib/20070613/news_1m13sharratt.html
Marines' Trials in Iraq Killings Are Withering
August 30, 2007 CAMP PENDLETON, Calif., Aug. 29 — Last December, when the Marine Corps charged four infantrymen with killing Iraqi civilians in Haditha, Iraq, in 2005, the allegation was as dark as it was devastating: after a roadside bomb had killed their buddy, a group of marines rampaged through nearby homes, massacring 24 innocent people.
In Iraq and in the United States, the killings were viewed as cold-blooded vengeance. After a perfunctory military investigation, Haditha was brushed aside, but once the details were disclosed, the killings became an ugly symbol of a difficult, demoralizing war. After a fuller investigation, the Marines promised to punish the guilty.
But now, the prosecutions have faltered. Since May, charges against two infantrymen and a Marine officer have been dismissed, and dismissal has been recommended for murder charges against a third infantryman. Prosecutors were not able to prove even that the killings violated the American military code of justice.
Now their final attempt to get a murder conviction is set to begin, with a military court hearing on Thursday for Staff Sgt. Frank D. Wuterich, the last marine still facing that charge. He is accused of killing 18 Iraqis, including several women and children, after the attack on his convoy.
If the legal problems that have thwarted the prosecutors in other cases are repeated this time, there is a possibility that no marine will be convicted for what happened in Haditha.
Nor is it yet clear whether officers higher up the chain of command than Sergeant Wuterich will be held responsible for the inadequate initial investigation.
At least one of the four Marine officers charged last December for failing to investigate the civilian deaths appears to be headed to court-martial. That officer, Lt. Col. Jeffrey R. Chessani, commander of Third Battalion, First Marines, "did not take personal action to fully investigate the actions leading to civilian deaths," concluded Col. Christopher C. Conlin, the officer who examined the evidence.
But the case against Capt. Randy W. Stone, the battalion lawyer charged with failing to find out why so many civilians had been killed, was thrown out by Lt. Gen. James N. Mattis, whose decisions in the Haditha prosecutions are final. Charges against First Lt. Andrew A. Grayson, an intelligence officer, are in limbo because of his argument that the Marine Corps has discharged him.
In a wide range of cases involving abuses by American troops in Iraq and Afghanistan, prosecutions have tended to focus on enlisted men and noncommissioned officers — those accused of having personally committed the acts — not on officers who commanded the units. And while there have been numerous convictions, there have also been many cases in which plea arrangements allowed for lesser punishments, or in which charges were dropped or found not to be warranted.
The sole officer to face criminal charges in the abuses of prisoners at Abu Ghraib, Iraq, was convicted Tuesday on only one minor charge and will be reprimanded, Reuters reported, quoting an Army announcement. The officer, Lt. Col. Steven L. Jordan, faced five years in prison and dismissal from the Army, but a court-martial decided on the milder penalty, the Army said.
The court-martial acquitted him of the charge of being responsible for cruel treatment of detainees at Abu Ghraib.
Experts on military law said the difficulty in prosecuting the marines for murder is understandable, given that action taken in combat is often given immunity under the Uniform Code of Military Justice.
"One could view this as a case crumbling around the prosecutor's feet, or one could see this as the unique U.C.M.J. system of justice in operation," said Gary D. Solis, a former Marine judge who teaches the laws of war at Georgetown University Law Center and at West Point.
Prosecuting the Haditha case was especially difficult because the killings were not thoroughly investigated when they first occurred. Months later, when the details came to light, there were no bodies to examine, no Iraqi witnesses to testify, no damning forensic evidence.
On the other hand, some scholars said the spate of dismissals has left them wondering what to think of the young enlisted marines who, illegally or not, clearly killed unarmed people in a combat zone.
"It certainly erodes that sense that what they did was wrong," Elizabeth L. Hillman, a legal historian who teaches military law at Rutgers University School of Law at Camden, said of the outcomes so far. "When the story broke, it seemed like we understood what happened; there didn't seem to be much doubt. But we didn't know."
Walter B. Huffman, a former Army judge advocate general, said it was not uncommon in military criminal proceedings to see charges against troops involved in a single episode to fall away under closer examination of evidence, winnowing culpability to just one or two defendants.
When Sergeant Wuterich, the soft-spoken squad leader who faces the most extensive murder charges in the Haditha matter, walks into court here on Thursday, "all the prosecutorial attention is now going to center on him," Mr. Solis said.
Sergeant Wuterich's lawyers have an uphill legal fight. First, unlike the other marines who faced murder charges, Sergeant Wuterich is charged with the close-range killing of five unarmed men who were ordered out of a vehicle that rolled up near the scene.
Also, as a noncommissioned officer and the ranking member of the squad, Sergeant Wuterich may be used by prosecutors to argue that he had a greater responsibility to discern proper targets and avoid civilian casualties. He also led the attack against or was present in every house where civilians were killed.
But the earlier cases show that the defense has some opportunities, too.
The presiding officer, Lt. Col. Paul J. Ware, is the same Marine lawyer who conducted hearings for Justin L. Sharratt and Stephen B. Tatum, two other lance corporals accused of killing a total of five Iraqis in three homes in Haditha.
Colonel Ware later recommended dismissing the charges against those two men, and he has said the killings should be viewed in the context of combat against an enemy that ruthlessly employs civilians as cover. He warned that murder charges against marines could harm the morale of troops still in Iraq.
General Mattis's statements expressing sympathy for the plight of other enlisted marines whom he cleared of wrongdoing in Haditha may indicate his willingness to see Sergeant Wuterich's case in a similar light.
Regardless of what happened to charges against the other defendants, there is still great public pressure on the Marine Corps to investigate and punish any wrongdoing in a case in which so many civilians died.
"We can't say those guys didn't commit a crime," said Michael F. Noone Jr., a retired Air Force lawyer and law professor at Catholic University of America. "We can only say that after an investigation, there was not sufficient evidence to prosecute."
http://www.nytimes.com/2007/08/30/world/middleeast/30haditha.html?_r=1&ref=world&oref=slogin
Former Marine charged in killings of 8 Iraqi prisoners
The Murrieta resident, who worked as a Riverside police officer until last week, is expected to appear in court today.
August 16, 2007 The U.S. attorney in Los Angeles has filed charges against a former Marine sergeant for his alleged role in the killing of eight unarmed Iraqi prisoners during a November 2004 battle in Fallouja, according to military and civilian sources.
Jose Nazario, a Murrieta resident who worked as a sworn officer in the Riverside Police Department until his termination last week, is expected to appear in a federal courtroom in Riverside today.
The criminal complaint and affidavit detailing the exact charges are under seal but are expected to be made public at that time.
A spokesman for the U.S. attorney declined to comment. Nazario could not be reached for comment.
The former sergeant is being charged in civilian court because he is no longer a Marine. Naval Criminal Investigative Service agents are examining allegations against other members of Nazario's squad, who are still in the Marine Corps, but referred Nazario's case to the U.S. attorney, sources said.
The investigation involves the same company -- Kilo Company, 3rd Battalion, 1st Regiment -- that is the focus of the worst alleged atrocity in Iraq, the killing of 24 civilians in Haditha on Nov. 19, 2005.
Marines have called the house-to-house fighting in Fallouja the most intense urban combat since Vietnam. One senior Marine officer who was in Fallouja said he was concerned that Nazario was being tried in a civilian court, where the jury might not "understand the reality of combat, understand the reality of Fallouja."
In three recent courts-martial at Camp Pendleton involving Marines accused of war crimes in Iraq, all the jurors were Iraq veterans, most of them from infantry battalions.
All three cases resulted in convictions, but two juries opted to release the Marines without additional prison time and the third gave a sentence that was half what the prosecutors sought.
Military investigators first became aware of the Fallouja incident when a member of the squad, Cpl. Ryan Weemer, took a polygraph examination as part of his bid to join the Secret Service.
In answer to a routine question -- if he had been involved in unjustified killings -- Weemer disclosed the prisoner killings. The disclosure touched off the Naval Criminal Investigative Service probe.
A spokesman for the service declined to discuss the investigation.
Sources say Nazario passed lie detector tests when he was applying for jobs with the Los Angeles Police Department and Riverside police.
Steven Frasher, a spokesman for the Riverside Police Department, confirmed that Nazario was terminated Aug. 7, but said he could not comment on the reasons for Nazario's departure or whether it was linked to the Naval Criminal Investigative Service investigation.
"When it comes to personnel matters and investigations being handled by other agencies, there is really not much we can say," Frasher said.
Frasher said Nazario was employed by the department since November 2005, including his recruitment period. As a probationary police officer, he was in the field for some of that time but was still undergoing training, Frasher added.
Frasher said all recruits undergo a polygraph test before they are hired, but he said Nazario was not asked whether he took part in "wrongful killings." Nazario enlisted in the Marines in September 1997 and left as a sergeant in October 2005.
http://www.latimes.com/news/local/la-me-marine16aug16,1,7103185.story?coll=la-headlines-california
Top Marine in Haditha case claims innocence
Court-martial ruling pending in killings
CAMP PENDLETON – The highest-ranking Marine charged in the deaths of 24 Iraqis testified yesterday that he committed no crimes and called the day he was relieved of his battalion command "probably the single most devastating day of my life."
Lt. Col. Jeffrey Chessani – accused of failing to properly investigate the killings of the 24 Iraqis, including women and children, in the city of Haditha – said "the decisions I made, the actions I took, were made in good faith."
Chessani, 43, was the final witness in a hearing that will help determine whether the former commander of the 3rd Battalion, 1st Marines should be court-martialed.
Military prosecutors say several Marines in Chessani's battalion went on an unprovoked killing spree Nov. 19, 2005, after a fellow Marine was killed in a bomb blast. The 24 Iraqis were all innocent civilians, prosecutors contend, although defense lawyers have suggested some were insurgents. On the advice of his lawyers, Chessani's testimony was unsworn and he was not subject to cross-examination from Col. Chris Conlin, the investigating officer who will recommend whether Chessani should be court-martialed. Six other Marines have been charged with crimes ranging from murder to dereliction of duty.
In less than 10 minutes of questioning by one of his lawyers, Chessani said his 19 years in the Marine Corps have included several combat deployments. He called his promotion to battalion commander "the pinnacle, the top of my career."
Although prosecutors have charged Chessani with dereliction of duty for failing to investigate the 24 deaths, Chessani testified yesterday that he was preoccupied with a dozen other events that day, including several firefights and bomb blasts in Haditha and elsewhere.
"It was nonstop action, one event after another," he said.
Prosecutors have said Chessani had numerous opportunities to investigate after that day.
In April 2006, after a journalist's inquiry prompted military brass to look into the 24 deaths, Chessani was relieved of his command. If he is court-martialed and convicted, Chessani – whose wife is pregnant with the couple's sixth child – could be dismissed from the military and imprisoned for three years.
"I still love the Marine Corps," he said. "I have no hard feelings and won't, no matter how this turns out." But, he added, "I do not believe that my decisions and my actions are criminal."
Closing arguments in the case are scheduled for tomorrow, after which Conlin will make a written recommendation on whether Chessani should be court-martialed. The final decision rests with Lt. Gen. James Mattis, commander of the 1st Marine Expeditionary Force at Camp Pendleton.
Also yesterday, the lawyer for Capt. Randy Stone said a military investigator has recommended against court-martialing Stone, although Mattis will make the final decision in that case, too. A preliminary hearing for Stone, who is charged with dereliction of duty, concluded last month.
http://www.signonsandiego.com/uniontrib/20070610/news_1m10haditha.html
Immunity given to 7 in Haditha slayings
Prosecutors trying to get more witnesses to testify
April 21, 2007 CAMP PENDLETON – Prosecutors have granted immunity to at least seven Camp Pendleton Marines linked to the killings of 24 civilians in Haditha, Iraq, according to newly leaked documents and sources close to the case.
The strategy resembles one that prosecutors have used effectively in another high-profile murder case involving servicemen from the base: bolstering their odds of winning by enticing more witnesses to testify.
Last summer, seven Marines and a sailor were charged with the April 26 abduction and execution-style death of an Iraqi grandfather in Hamdaniya, Iraq. The defendants initially banded together and pledged to fight the allegations.
But their unity melted once the Marine Corps started making plea deals, with prosecutors offering lighter prison sentences to some servicemen in exchange for their testimony against the remaining defendants. Five of the accused have taken plea agreements.
On Tuesday, the Marine Corps announced that it had dropped all charges, including five counts of murder, against Sgt. Sanick P. Dela Cruz and given him immunity in exchange for his testimony.
Cruz and three other enlisted Marines are accused of going on a deadly rampage Nov. 19, 2005, in Haditha after a roadside bomb claimed one of their own. The defendants have acknowledged killing the 24 civilians but said they were following the military's rules for combat engagement.
In addition, four officers are charged with failing to fully investigate the incident.
Yesterday, several lawyers and documents acquired by The Washington Post confirmed that prosecutors have extended immunity to at least six other Marines in the Haditha case. Those men, including the only officer present during the killings, apparently had not been charged with any crime.
Immunity may sound like a good thing, but not everybody wants it.
"Some of these guys are being given immunity so Marine prosecutors can then order them to testify," said a military source with knowledge of the case. The source requested anonymity because Marine commanders haven't released the latest immunity documents or allowed people involved in the Haditha proceedings to speak publicly about them.
"Their Fifth Amendment right not to incriminate themselves only applies when facing charges," the source said. "(Now) . . . they have to testify or face charges."
Failure to testify could send them to prison for two years.
"Marines are a pretty tightknit group of people. They don't like testifying against each other," said John Hutson, president and dean of the Franklin Pierce Law Center in Concord, N.H., and former judge advocate general of the Navy.
However, not all the Haditha immunity deals are guaranteed to boost the prosecution's chances. The testimony of Lt. William T. Kallop, the sole officer at the killing scene, could support defendants' contention that they were following lawful orders.
Kallop reached the Haditha site minutes after the roadside bomb went off, according to military reports. In testimony given later to investigators, he said the squad leader, Staff Sgt. Frank D. Wuterich, and another Marine heard gunfire coming from a nearby house.
Kallop told the investigators that he ordered Wuterich and the other men in his platoon to "take the house."
"I'm convinced that we did nothing wrong," Kallop is quoted as saying in documents The Washington Post obtained from anonymous sources.
The Marines also killed people in two other homes and a nearby vehicle.
"During the four years as a military trial lawyer, I don't recall a defense witness ever being given immunity," said Tom Umberg, a former military defense counsel, prosecutor and judge.
Umberg theorized that Kallop's immunity deal might help the prosecution avoid certain problems if the defendants file appeals. He also said prosecutors might use some portions of Kallop's testimony to their advantage.
http://www.signonsandiego.com/uniontrib/20070421/news_1m21haditha.html
Report On Haditha Condemns Marines
Signs of Misconduct Were Ignored, U.S. General Says
April 21, 2007 The Marine Corps chain of command in Iraq ignored "obvious" signs of "serious misconduct" in the 2005 slayings of two dozen civilians in Haditha, and commanders fostered a climate that devalued the life of innocent Iraqis to the point that their deaths were considered an insignificant part of the war, according to an Army general's investigation.
Maj. Gen. Eldon A. Bargewell's 104-page report on Haditha is scathing in its criticism of the Marines' actions, from the enlisted men who were involved in the shootings on Nov. 19, 2005, to the two-star general who commanded the 2nd Marine Division in Iraq at the time. Bargewell's previously undisclosed report, obtained by The Washington Post, found that officers may have willfully ignored reports of the civilian deaths to protect themselves and their units from blame. Though Bargewell found no specific coverup, he concluded that there also was no interest at any level in investigating allegations of a massacre.
"All levels of command tended to view civilian casualties, even in significant numbers, as routine and as the natural and intended result of insurgent tactics," Bargewell wrote. He condemned that approach because it could desensitize Marines to the welfare of noncombatants. "Statements made by the chain of command during interviews for this investigation, taken as a whole, suggest that Iraqi civilian lives are not as important as U.S. lives, their deaths are just the cost of doing business, and that the Marines need to get 'the job done' no matter what it takes."
Bargewell's sharp criticism of the Marine command appears to have been a contributing factor in subsequent efforts by top leaders to ensure that U.S. troops exercise appropriate restraint around civilians. Lt. Gen. Peter W. Chiarelli, who was the top field commander in Iraq last year, and Gen. David H. Petraeus, now the top U.S. commander there, have emphasized the importance of protecting the civilian population in counterinsurgency operations and have ordered aggressive investigations of alleged wrongdoing.
Though Bargewell completed his secret report in June 2006, it has not been publicly released because of ongoing criminal investigations of three Marines on murder allegations and four Marine officers who allegedly failed to look into the case. Bargewell's report, now unclassified, focuses on the reporting of the incident and the training and command climate within the Marine Corps leadership; it does not address the actual incident in detail.
The investigation began in March 2006 after an initial inquiry concluded that the Marines did not intentionally kill civilians. Bargewell's team interviewed Marines in Asad in western Iraq and in the United States in April 2006. His final report was submitted to Chiarelli on June 15, 2006.
A Marine inspects the scene near Haditha, Iraq, where two dozen civilians were killed in 2005.
A Marine Corps spokesman declined to comment yesterday. Marine officials have generally not discussed the incident because it is under investigation.
In the Haditha incident, which has become one of the most notorious alleged atrocities of the Iraq war, Marines killed two dozen civilians after a huge roadside bomb ripped through a Humvee in their convoy, killing one Marine instantly and injuring two others. A Naval Criminal Investigative Service report found that the Marines then killed five unarmed civilians whom they ordered out of a car -- one Marine alleged that another got down on one knee and shot them one by one -- before storming several houses and killing women and children, some of them still in their pajamas and lying in bed.
The Marines have told investigators that they believed they were taking small-arms fire from the houses and that they were following their rules of engagement when they threw grenades and then shot everyone inside.
Bargewell found that, though the Marines were trained correctly, some "did not follow proper house and room techniques" by not positively identifying their targets. Lt. William T. Kallop, the only officer on the scene at the time, ordered the attack on the houses and told investigators that he did not believe the Marines did anything wrong. Kallop received immunity this month and will probably testify at the hearings for the other Marines.
The report notes errors and oversights at all levels of the Marine command in Iraq. Bargewell says that Marines at the squad level came up with a false story; that Kilo Company officers and the commander of the 3rd Battalion, 1st Marine Regiment, passed along insufficient information to the regimental commander; and that regimental officers and officers at the 2nd Marine Division ignored signs of a problem and believed the incident to be insignificant. He also accuses the entire chain of failing to recognize the importance of civilian deaths.
Of particular concern to Bargewell was that nearly all Marines looked the other way when confronted with early reports that many civilians had been shot in fighting on the streets of Haditha after a roadside bomb killed a member of their unit. His investigation found that Marines and officers present that day immediately reported numerous civilian deaths to superiors but that the reports were "untimely, inaccurate and incomplete" -- failures he attributed to "inattention and negligence, in certain cases willful negligence."
Then, no one asked any further questions, Bargewell wrote, despite gruesome photographs circulating among junior Marines that showed that women and children had been killed in their beds. He cited several opportunities to investigate that were not taken, such as when more than $40,000 in condolence payments went to Iraqis after the killings.
"I found that the duty to inquire further was so obvious in this case that a reasonable person with knowledge of these events would have certainly made further inquiries," Bargewell wrote. "The most remarkable aspect of the follow-on action with regard to the civilian casualties from the 19 November 2005 Haditha incident was the absence of virtually any kind of inquiry at any level of command into the circumstances surrounding the deaths."
No one recommended an investigation until a Time magazine reporter began asking questions about the attack in January 2006. Maj. Gen. Richard A. Huck, the division commander, dismissed the allegations as insurgent propaganda, according to the report. The battalion commander, Lt. Col. Jeffrey Chessani, also refused to investigate, saying, "My marines are not murderers," according to two of his top subordinates. Bargewell called this "an unwillingness, bordering on denial," to examine an incident that could be harmful to his unit.
Chessani's attorneys have denied that he did anything wrong and have said that he informed his commanders about the incident.
The regimental commander, Col. Stephen Davis, was also not interested in investigating, according to the report. "The RCT-2 Commander, however, expressed only mild concern over the potential negative ramifications of indiscriminate killing based on his stated view that the Iraqis and insurgents respect strength and power over righteousness," the report says.
None of Chessani's superiors has been charged with a crime, but in addition to the battalion commander, two captains and a lieutenant have been charged with failing to investigate or with impeding the investigation.
Bargewell found that Huck's division staff viewed the allegations of inappropriate killings as part of insurgent "information operations" and an attempt to make the Marines look bad. He also noted a proclivity among senior officers to look past such allegations even if there was a chance they could be accurate. Bargewell called that approach "myopic and overly simplistic" and said it produced a tendency to judge credibility based on the source of the information rather than on the facts.
http://www.washingtonpost.com/wp-dyn/content/article/2007/04/20/AR2007042002308.html?hpid=topnews
Eyewitness Accounts in Report Indicate Marines Gunned Down Unarmed Iraqis in the Aftermath of a Roadside Bombing
A photo contained in a Naval Criminal Investigative Service report obtained by The Washington Post shows a Marine inspecting a roadside scene near Haditha, Iraq, where five unarmed civilians were killed on Nov. 19, 2005. Earlier that day, Marines stopped the white taxi in which the men had been riding, then allegedly shot them after a bomb exploded nearby. The incident was the first on a day of violence in Haditha that left 24 civilians dead, among them women and children, and four Marines charged with murder.
January 6, 2007 U.S. Marines gunned down five unarmed Iraqis who stumbled onto the scene of a 2005 roadside bombing in Haditha, Iraq, according to eyewitness accounts that are part of a lengthy investigative report obtained by The Washington Post.
Staff Sgt. Frank D. Wuterich, the squad's leader, shot the men one by one after Marines ordered them out of a white taxi in the moments following the explosion, which killed one Marine and injured two others, witnesses told investigators. Another Marine fired rounds into their bodies as they lay on the ground.
"The taxi's five occupants exited the vehicle and according to U.S. and Iraqi witnesses, were shot by Wuterich as they stood, unarmed, next to the vehicle approximately ten feet in front of him," said a report by the Naval Criminal Investigative Service on the incident that runs thousands of pages.
One of the witnesses, Sgt. Asad Amer Mashoot, a 26-year-old Iraqi soldier who was in the Marine convoy, told investigators he watched in horror as the four students and the taxi driver fell. "They didn't even try to run away," he said. "We were afraid from Marines and we saw them behaving like crazy. They were yelling and screaming."
The shootings were the first in a series of violent reactions by Marines on the morning of Nov. 19, 2005 that left 24 civilians -- many of them women and children -- dead, in what some human rights groups and Iraqis have called a massacre by U.S. troops.
The report, which relied on hundreds of interviews with Marines, Iraqi soldiers and civilian survivors conducted months after the incident, presents a fragmented and sometimes conflicting chronicle of the violence that day. But taken together, the accounts provide evidence that as the Marines came under attack, they responded in ways that are difficult to reconcile with their rules of engagement.
Four Marines were charged with murder last month in connection with the civilian deaths in Haditha: Wuterich, who faces 13 counts of unpremeditated murder; Sgt. Sanick P. Dela Cruz; Lance Cpl. Justin L. Sharratt; and Lance Cpl. Stephen B. Tatum. Each faces the possibility of life in prison if convicted.
Through their lawyers, three have argued that they behaved appropriately while taking fire on a chaotic battlefield, and that the civilian deaths were a regrettable but unavoidable part of warfare in an especially dangerous area. Dela Cruz's attorney has declined to comment.
The Marine Corps also has charged four officers with failing to investigate and fully report the slayings: Lt. Col. Jeffrey R. Chessani, Capt. Lucas M. McConnell, Capt. Randy W. Stone and Lt. Andrew A. Grayson.
The Marines told investigators that they believed they were authorized to fire freely inside two houses they raided in the minutes following the taxi shootings, after concluding that insurgents were firing on them. After an officer ordered them to "take" one of the homes and Wuterich commanded them to "shoot first, ask questions later," the Marines considered the houses "hostile," according to sworn statements to investigators.
Marine officials have accused the troops of failing to identify their targets before using grenades and guns to kill 14 unarmed people in the houses, including several young children in their pajamas, in a span of about 10 minutes, according to the documents.
Safah Yunis Salem, 13, who said she played dead to avoid being shot, was the only person to survive the Marine attack on the second house. Her sister Aisha, 3, was shot in the leg and died; her brother Zainab, 5, was killed by a shot to the head. She said she lost five other members of her family in the room, including her mother.
"He fired and killed everybody," Safah said. "The American fired and killed everybody."
Numerous Marine officers in the chain of command in Iraq -- including a major general -- knew about the civilian deaths almost immediately but did not launch an investigation for months, according to interview transcripts. Some lower-level officers did not believe that the Marines had done anything inappropriate, while high-ranking officers had limited information about the incident and did not inquire further.
A Routine Mission Turns Violent The report provides a detailed narrative of the events leading to the violence in Haditha. The day began about 6 a.m., when Lance Cpl. Salvador A. Guzman Jr. awoke at Firm Base Sparta and members of his squad learned they would be bringing fresh Iraqi troops to a traffic checkpoint in Haditha. He bumped into Lance Cpl. Miguel "T.J." Terrazas, who joked that "we were going to get hit by an improvised explosive device one day because we travel so much," Guzman told investigators.
The Marines left the base at about 6:45 a.m. and made the personnel changes by about 7 a.m.; then they turned their four-vehicle convoy around and headed back. Sharratt, in the turret of the first Humvee, waved a white sedan over to the side of "Route Chestnut," and as it slid to the south shoulder a blast rocked the neighborhood.
Terrazas, who was driving the fourth Humvee, was killed instantly by the remotely detonated propane tank, which shredded the front of the vehicle and launched it into the middle of the road. Another Marine, severely injured, was trapped in the wreckage.
Marines who rushed to help told investigators they took enemy rifle fire from several locations on the north and south sides of the road. Navy Hospitalman Brian D. Whitt said he could see bullet impacts near his feet and noticed men with rifles disappearing from atop a house to the north. Some of the fire appeared to be coming from behind the white taxi.
The Marines concurred that they were under fire from all sides, indicating that the incident was part of a complex insurgent attack that lasted much of the day.
One Marine and two Iraqi soldiers told investigators that the men who had been in the taxi were standing in a line outside it, some with their hands in the air, when Wuterich began to fire on them.
Wuterich said the men got out of the car, and he shot them because he considered them a threat. But Dela Cruz said the men were standing in a line when they started to fall.
"As I crossed the median I saw one of the Iraqi civilians, who was standing in the center of the line, drop to the ground," Dela Cruz told investigators. "Immediately afterwards another Iraqi standing by him raised his hands to his head. I then heard other small arms fire and looked to my left and saw Sgt. Wuterich kneeling on one knee and shooting his M16 in the direction of the Iraqi civilians."
Dela Cruz told investigators that he pumped bullets into the bodies of the Iraqi men after they were on the ground and later urinated on one of them.
Minutes later, a Quick Reaction Force arrived from the Marine base, bringing Lt. William T. Kallop, the first officer on the scene. Kallop told investigators he began to receive enemy fire almost immediately. About that time, Cpl. Hector A. Salinas spotted a man firing at the squad from the corner of a house on the south side of the road.
"Salinas then stated that he could see the enemy so Kallop told them to 'take the house,' " according to an NCIS summary of an interview with Kallop. The interview provides the first evidence that an officer ordered the attack.
Richard McNeil, a lawyer who represents Kallop, declined to comment about him or his role, but he warned that "typically in an NCIS investigation, the narratives are always slanted to the interpretation of the government."
Wuterich, Salinas, Tatum and Lance Cpl. Humberto M. Mendoza formed a team to attack the house, launching grenades first and then busting through the door.
"I told them to treat it as a hostile environment," Wuterich told investigators. "I told them to shoot first, ask questions later."
Defense attorneys have argued that the men were following their "rules of engagement" when they shot into the homes, using effective techniques in a difficult environment.
The Marine division's rules-of-engagement card in effect at the time in western Iraq instructed Marines to "ALWAYS minimize collateral damage" and said that targets must be positively identified as threats before a Marine can open fire. It also told Marines that "nothing on this card prevents you from using all force necessary to defend yourself."
After entering the first house through a kitchen, Tatum told investigators, he heard what he believed was an AK-47 rifle being "racked," or readied to fire, around a corner. He and Salinas tossed grenades into the room, according to the documents. Waleed Hasan, 37, was killed. Khamisa Ali, 66, was shot dead in the hallway before four others were killed in a bedroom by grenades and rifle fire.
Nine-year-old Eman Hamed told investigators that a grenade landed near her grandfather's bed and exploded, sending shrapnel through the room. Her mother and 4-year-old brother were killed as she huddled, injured, with another brother, Abid, 6, who survived. "All rooms," Abid told investigators. "They were shooting in all rooms."
Several Marines said they quickly cleared the home by fire, shooting through the dust, debris and darkness to eliminate what they believed was a threat.
From there, Wuterich, Mendoza and Tatum said, they moved to a second house after suspecting that insurgents might have escaped. Mendoza told investigators that the Marines approached the second house the same way they did the first, treating it as hostile, according to his sworn statement. Mendoza said he shot a man, 43-year-old Yunis Rasif, through the house's glass kitchen door.
"I fired because I had been told the house was hostile and I was following my training that all individuals in a hostile house are to be shot," Mendoza told investigators. The Marines then entered the house and tossed grenades before firing into a back bedroom, which they later found was filled with women and children.
"Knowing what I know now, I feel badly about killing Iraqi civilians who may have been innocent, but I stand fast in my decisions that day, as I reacted to the threats that I perceived at the time," Tatum said. "I did not shoot randomly with the intent to harm innocent Iraqi civilians."
Jack Zimmerman, Tatum's attorney, declined to comment yesterday but decried the publication of the documents. "The ethical rules that govern lawyers prohibit me from even discussing the matter," he said.
Mashoot, the Iraqi soldier who was with the Marines, said he thought the attack on the houses was warranted because the entire convoy was taking fire. Investigators noted that he believed the Marines "had justification" because they were "defending themselves."
Another group of Marines, including Dela Cruz, simultaneously went to the north side of the road and found a dwelling that they believed was the "trigger house" for the roadside bomb. They took several Iraqis into custody, according to the documents, but did not shoot anyone in a search of several houses. Another man was shot after Marines observed him running along a ridgeline.
A few hours later, Sharratt, Wuterich and Salinas approached a third and fourth house after noticing men they said were peering at them suspiciously.
The investigative reports show that what happened there is unclear. Iraqi witnesses said the Marines angrily separated men and women into two lines before marching the men into the fourth house and shooting them. The three Marines told investigators they were searching for the men they had seen and separated the women into a safe area before Wuterich and Sharratt entered the house.
At First, No Inquiry The military did not launch an inquiry of the Haditha deaths until a Time magazine reporter began to inquire about the incident two months later. Marine officers told investigators the reason was simple: Nothing in the reports they received from the field caused them to believe that a probe was warranted.
Investigators appear to have found little evidence that Marines on the ground or at headquarters tried to conceal the day's events. But Dela Cruz told investigators that Wuterich asked him to back up claims that the men in the taxi were trying to flee before they were shot.
Puckett, Wuterich's lawyer, challenged Dela Cruz's assertion: "Staff Sergeant Wuterich adamantly denies asking anybody to lie or change their story."
The documents show that Marines in Kilo Company, 3rd Battalion, 1st Marine Regiment, reported the incident to their base as it was happening and made clear that there were a significant number of civilian casualties. Though at first the Marines classified eight of the civilians as insurgents, they quickly reported that at least 15 civilians had been killed in what they called "crossfire" with the enemy.
The events came amid heavy insurgent attacks in Haditha that day that ultimately prompted Marines to call in airstrikes on suspected insurgent homes. The hectic nature of the day caused some early reports to be confused and inaccurate, Marines told investigators.
The Kilo Company commander, McConnell, told his Marines on the day of the attacks that they had done a good job, according to an investigative summary in the NCIS report. Investigators wrote that McConnell did not want to question his Marines on a day they lost a comrade but that he informed his superiors about the civilian deaths.
"There was never a hint whatsoever that these kids did anything improper. Not one," said Kevin McDermott, a lawyer who represents McConnell.
Marine officers said Chessani, the Marines' battalion commander, informed his superior, the regimental commander, of the civilian casualties the day they occurred and was told by that officer, Col. Stephen W. Davis, that no investigation was needed.
"There was nothing out of the ordinary about any of this, including the number of civilian dead, that would have triggered anything in my mind that was out of the norm," Davis told military investigators, according to a transcript. "There is nothing about this incident that jumped out at any point to us."
Maj. Gen. Richard A. Huck, the division commander, told investigators he learned about the civilian casualties on the day they occurred and believed that they were the result of a roadside bomb and the ensuing gunbattle between Marines and insurgents. Huck visited Haditha three days later and was briefed on the incident.
"Nothing in the brief caused any concern to me," Huck told investigators. "I do not recall if the brief discussed the number of Iraqis killed that day, but I do recall the brief discussing Marines clearing houses following the IED attack."
McConnell and Chessani have been charged in the case; Huck and Davis have not. Attempts to reach Chessani or an attorney for him were not successful.
In December 2005, the Marines authorized $38,000 in condolence payments to the families of the civilians killed in the first two houses, and Chessani, in early February, explained the payments in a memo. "The enemy chose the time and place of his ambush. Without callous disregard for the lives of innocent bystanders, the enemy would not have chosen to fight from the bedrooms and living rooms of civilian-occupied houses," he wrote.
The official inquiry began two weeks later, after the Time reporter sent a list of questions about the incident to Marine officials in Iraq. In his e-mail, the reporter raised the possibility that Marines had massacred civilians and executed the men from the taxi, based in part on a videotape made by an activist a day after the incident.
Huck told investigators he dismissed the allegations, believing they were part of an insurgent campaign to smear the Marines. Other Marine officers, such as Davis, also believed that the allegations were outlandish.
But Maj. Samuel H. Carrasco, then a battalion operations officer, said he and the battalion executive officer suggested an investigation to Chessani. Carrasco told investigators that "Lt. Col. Chessani then shouted, 'My men are not murderers.' "
The first investigation, by Army Col. Gregory Watt, ordered by Lt. Gen. Peter W. Chiarelli, then the top field commander in Iraq, essentially supported the Marines' accounts of events. Watt determined that the troops had reason to be suspicious of the men in the white car and concluded that while they did not positively identify targets in the houses, it might have been "unrealistic to expect" on the battlefield that day.
He also found no indication that the Marines "intentionally targeted, engaged and killed noncombatants," but he suggested a criminal investigation nonetheless. The NCIS investigation began March 12, leading to last month's charges.
http://www.washingtonpost.com/wp-dyn/content/article/2007/01/05/AR2007010502248.html
Marines' Photos Provide Graphic Evidence in Haditha Probe
A photo contained in a Naval Criminal Investigative Service report obtained by The Washington Post shows a Marine inspecting the blast crater from a roadside bomb that destroyed a Humvee and killed the Marine who was driving it in Haditha. Criminal investigators noted that the photo was dated Nov. 19, 2005. Investigative reports show that the photograph, and numerous others of the incident that day, made their way onto Marine laptops and computer drives in the months afterward.
http://www.washingtonpost.com/wp-dyn/content/article/2007/01/06/AR2007010601359.html
Corps charges 8 Marines in deaths of Iraqi civilians
24 were slain in Haditha; 4 enlisted men face multiple counts of murder
Accused Marine Lance Cpl. Justin L. Sharratt's parents, Darryl and Theresa, and his sister, Jaclyn, attended a news conference yesterday at Camp Pendleton. Darryl Sharratt says his son, who faces three counts of unpremeditated murder, "was very stunned by the charges."
Four of the suspects are enlisted Marines charged with unpremeditated murder – the equivalent of second-degree murder – and lesser crimes. They face life behind bars if convicted.
December 22, 2006 Eight Camp Pendleton Marines were charged yesterday in the killing of 24 civilians in Iraq, an incident that some call the gravest war crime of the nearly four-year conflict.
The defendants' lawyers and families portrayed the alleged massacre on Nov. 19, 2005, in Haditha as a tragedy, but prosecutors said it amounted to murder.
The remaining defendants are officers accused of crimes related to covering up, downplaying or not fully investigating the shootings. They could go to prison and be dismissed from the Marine Corps if found guilty of charges such as dereliction of duty, making a false official statement and obstruction of justice.
"(We) take allegations of wrongdoing by Marines very seriously," Marine Corps spokesman Col. Stewart Navarre said yesterday afternoon before a crush of reporters at Camp Pendleton. The accused will not be jailed or restricted to the base, Navarre said, because they don't pose a flight risk or harm to themselves or others.
The charges stem from two extensive military investigations into the Haditha deaths, which have spurred public soul-searching among top Marine officials and sparked outrage among human-rights groups and Iraq's leaders.
A videotape image from Haditha, Iraq, showed a scene of grief in what appears to be a morgue after the alleged massacre on Nov. 19, 2005. Twenty-four civilians died in what prosecutors say was a raid by Marines that amounted to murder.
By some accounts, members of the Kilo Company, 3rd Battalion, 1st Marine Regiment went on a revenge killing spree after a roadside bomb explosion killed one of their own. The suspects' attorneys, however, said their clients were carrying out the Marine Corps' rules for combat engagement after the bomb went off and insurgents attacked them from nearby houses.
The greatest number of charges were lodged against Staff Sgt. Frank D. Wuterich, who led the squad during the Haditha incident. He faces 12 counts of unpremeditated murder against specific individuals and a 13th count for allegedly telling squad members to "shoot first and ask questions later" as they broke into a house. Six civilians were killed in that home.
Wuterich was simply doing his job, said his civilian attorney, Neal Puckett.
"Everything he did that day was to protect his Marines," Puckett said.
Also charged with unpremeditated murder were Sgt. Sanick P. Dela Cruz, Lance Cpl. Justin L. Sharratt and Lance Cpl. Stephen B. Tatum.
Sharratt's civilian attorney, Gary Myers, expressed relief at having received the charges.
Marine spokesman Col. Stewart Navarre held a news conference at Camp Pendleton yesterday, where he said that the eight defendants will not be jailed or restricted to the base because they don't pose a flight risk.
"We had no idea who they were going to charge and what they were going to charge them with," Myers said. "Now we'll develop our defense."
Sharratt's parents and sister, who attended yesterday's news conference at Camp Pendleton, said he is innocent.
"(Justin) was very stunned by the charges," said Sharratt's father, Darryl. "He feels that he and the other Marines were following the rules of engagement, and that will be their defense."
The Sharratt family thinks the charges are politically motivated.
Other defendants' families share that belief, noting remarks made by Rep. John P. Murtha, D-Pa., in May that the Marines in the Haditha case had "killed innocent civilians in cold blood."
That same month, Marine Commandant Gen. Michael Hagee stressed the importance of ethical behavior to his troops during a trip to Iraq and subsequent visits to several bases in the United States. His description of "the American way of war" came amid investigations into the Haditha and Hamdaniya cases.
Staff Sgt. Frank D. Wuterich, who led a squad during the Haditha incident, faces 13 counts of unpremeditated murder.
In the latter incident, eight Camp Pendleton service members are charged with kidnapping and executing a Iraqi man April 26 in the town of Hamdaniya. Four of those defendants, as part of their plea bargains, have confirmed that the killing took place, and the other suspects are awaiting courts-martial.
During the news conference, Navarre said that "there has been no pressure from Congress or anyone further up the chain of command" in regard to the Haditha and Hamdaniya cases.
Several military analysts saw a sharp point in yesterday's charges against the four officers, the highest number of officers for a single incident in recent memory.
"It's clear the Marine Corps is sending a message," said retired Col. Tom Umberg, a former Army prosecutor now in private practice in Santa Ana. "If any atrocity is reported, there's a duty to investigate. Failure to carry out that duty will end your career."
The officers charged were Lt. Col. Jeffrey R. Chessani, 1st Lt. Andrew A. Grayson, Capt. Lucas M. McConnell and Capt. Randy W. Stone. None of the officers was present during the killings.
The most unusual counts might be those filed against Stone, a Marine Corps attorney who had been advising the battalion in Iraq. He is charged with failing to thoroughly investigate and report the incident to superiors.
David Wuterich, father of Staff Sgt. Frank Wuterich, met with reporters yesterday outside his home in Meriden, Conn. He said the family is having a hard time with the charges against his son.
"In 28 years (of military legal experience), I've never seen a lawyer charged with that kind of failure," said retired Rear Adm. John Hutson, now director of the Franklin Pierce Law Center in Concord, N.H.
Initially, the Haditha deaths didn't generate much concern among the squad's officers or top Pentagon officials. In fact, Wuterich was nominated for a medal based on his purported bravery and leadership during the incident. Military leaders said the bomb blast killed 15 Iraqi civilians along with the sole Marine, Lance Cpl. Miguel Terrazas.
Then in March, Time magazine published a story questioning the shootings, and human-rights organizations began distributing photos and video footage of blood-stained houses filled with dead men, women and children.
Soon afterward, President Bush said he was concerned by the "serious allegations," and Iraq's prime minister and president criticized U.S. military conduct in their country.
The Department of Defense called on dozens of military investigators to gather evidence in Haditha and the United States. Its probes concluded that Wuterich and his three squad mates shot to death the civilians – 19 people in several houses and five men in a taxi that approached the Marines' convoy after the roadside bomb detonated. About 10 of the dead were women and children, who appeared to be killed by rifle fire at close range, according to the investigators.
Hutson, once the Navy's top lawyer, said Marines of all ranks need to look beyond the Haditha and Hamdaniya incidents to determine whether there's a widespread pattern of wartime atrocities committed by U.S. forces.
"We can send these guys to prison for the rest of their lives," he said. "But if we don't take a hard look to figure out why it's happening – recruiting, supervision, training, leadership, chain of command – then it's going to happen again."
http://www.signonsandiego.com/uniontrib/20061222/news_1n22charges.html
http://www.nctimes.com/articles/2006/12/22/news/top_stories/22_36_4712_21_06.txt
http://www.nctimes.com/articles/2006/12/28/news/top_stories/1_04_5712_27_06.txt
Report suggests Marines culpable in Haditha killings
03 August, 2006 A probe into the killing of 24 Iraqis by a squad of Camp Pendleton Marines last November concluded the killings were carried out deliberately and apparently in violation of the rules of engagement, an unnamed Pentagon official was quoted as saying Wednesday.
http://www.nctimes.com/articles/2006/08/03/news/top_stories/8106191650.txt
beginning
http://en.wikipedia.org/wiki/Haditha_killings
outside Samarra, U.S. soldiers crossed the line in slayings, prosecutor argues
TIKRIT, Iraq -- A military prosecutor said Friday that four U.S. soldiers accused of murder in Iraq crossed the line and violated the "laws of war," arguing they freed three detainees, encouraged them to flee and then shot them down as they ran.
"Soldiers must follow the laws of war. That's what makes us better than the terrorists, what sets us apart from the thugs and the hit men. These soldiers did just the opposite," Capt. Joseph Mackey said in closing arguments at a hearing to determine if the four should face a court-martial -- and possibly the death penalty.
But a lawyer for one of the accused soldiers said the three Iraqi men "got exactly what they deserved" and urged a military investigator to recommend that murder charges filed against the four be dismissed.
Pfc. Corey R. Clagett, Spc. William B. Hunsaker, Staff Sgt. Raymond L. Girouard and Spc. Juston R. Graber are accused of murder in the killing of the three Iraqi men taken from a house May 9 outside Samarra.
The soldiers, all from the 101st Airborne Division's 187th Infantry Regiment, declined to testify at the hearing, relying instead on statements they made to military investigators.
By RYAN LENZ THE ASSOCIATED PRESS
Viet Nam War
My Lai massacre
November 12, 2006 It was on this day in 1969 that the reporter Seymour Hersh (books by this author) broke the story of the My Lai massacre, the most notorious war crime ever committed by American soldiers. One witness to the incident was helicopter pilot Hugh Thompson. Then he watched as an American shot a wounded woman lying defenseless on the ground. He saw several elderly adults and children running for shelter, chased by Americans. He was the first person to report the incident to his superiors, and he assumed that an investigation would follow. But nothing happened. It was another soldier, named Ron Ridenhour, who heard about the incident and vowed to make it public. He interviewed as many men who'd been there that day as he could, and when he got back to the United States he wrote a description of the massacre and sent it to 30 people, including his congressman.
The Pentagon initiated an investigation and it charged Lieutenant William Calley with the murder of unknown civilians. But there was no media coverage until freelance reporter Seymour Hersh heard about the incident from a lawyer who had been working with military deserters. He interviewed as many people involved as he could find, and wrote the first article about the incident. But no major magazine would publish it.
So Hersh turned to a tiny news syndicate called the Dispatch News Service, which offered the article to 50 newspapers around the United States and Europe for the price of $100. Thirty-six of the newspapers, including the Boston Globe and the San Francisco Chronicle, chose to run the article on this day in 1969. Hersh went on to write a total of five articles about the massacre and its aftermath, and he won a Pulitzer Prize for his coverage.
http://writersalmanac.publicradio.org/programs/2006/11/06/#sunday